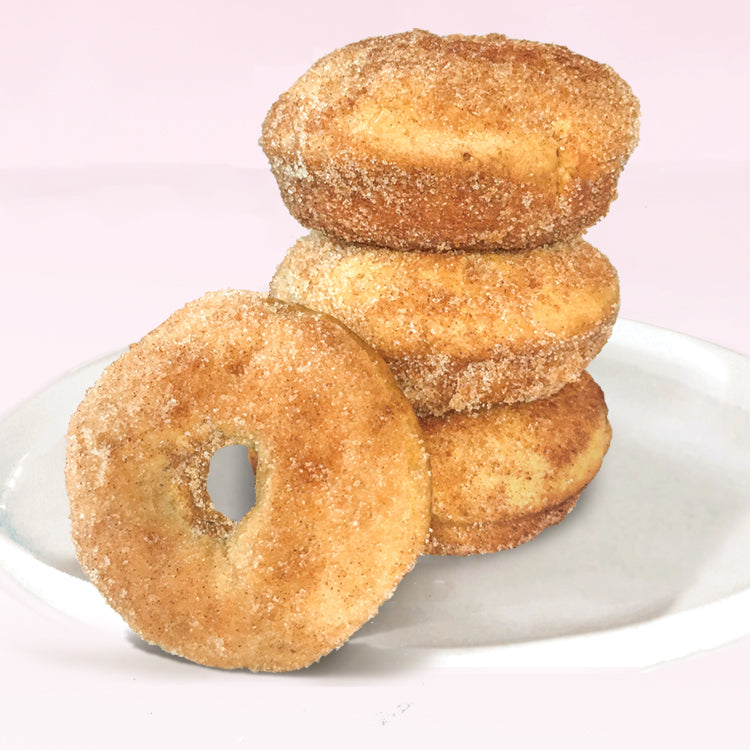 These sweet bites are a gluten-free treat. I know the limitations that come with eating gluten-free and that's why I challenge myself to make the best gluten-free foods we typically can not find.
These cake-like donuts are made with our MinusG Donut Mix. They remind me of a snickerdoodle cookie but in a donut. When dipped in melted butter and rolled in cinnamon-sugar they are so flavorful, they melt in your mouth.
In my mom's words, "These are scrump-dilicious!" to which my sister added, "You can't have just one!" This is a simple doughnut, but it's a yummy treat for any time of the year.
Prep: 15 min. Bake: 18 min. Makes: 1 dozen donuts
Ingredients:
Donut Batter
5 Tbsp. butter, melted or dairy-free butter
½ c. sugar or sugar substitute
1 large egg (or egg substitute of 2 tsp baking powder, 1 tablespoon water and 1 tablespoon of vinegar)
½ c. buttermilk (Make buttermilk by adding ½ tsp. vinegar to milk - let sit 5 minutes)
1 tsp. vanilla
1 ½ c. Donut Mix
Cinnamon Sugar Topping
¼ c. butter, melted or dairy-free butter
¼ c. sugar
½ tsp. cinnamon 
You will need a donut or muffin pan.

Directions:
Preheat oven to 350ºF. Lightly grease donut or muffin pan and set aside. 
In a medium bowl melt butter. Add sugar, egg and vanilla and whisk together. Pour buttermilk over top.
Measure 1 1/2 cup donut mix into the milk & egg mixture. Stir together with a fork until smooth. The batter will become thick but silky smooth.
Spoon donut batter into a pastry bag fitted with a large round tip or into a ziplock baggie with the tip cut off. Pipe batter into the donut ring until full. If using the muffin pan, fill each well

½

full.
Bake at 350ºF for 18 minutes. Allow to cool slightly before dipping in topping.
Melt the butter for the topping and set aside. Combine the cinnamon and sugar together in a small bowl. Dip each donut lightly in the melted butter then sprinkle or roll in cinnamon sugar.
Serve immediately. Donuts the next day, microwave 10-15 seconds to soften  just like fresh-baked.
Happy eating!