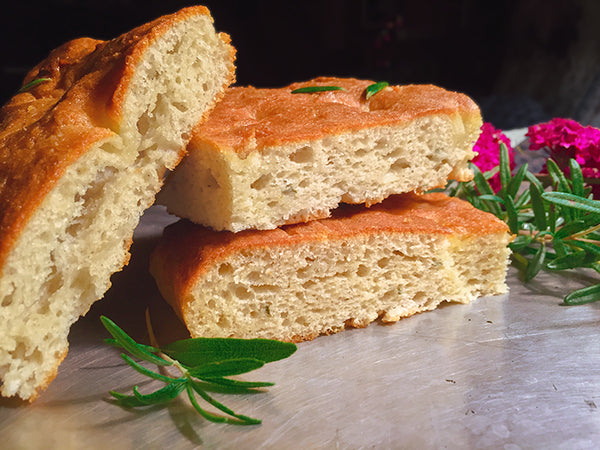 MAKES: 12 servings
INGREDIENTS:
3 teaspoons finely chopped fresh rosemary
2½ tablespoons extra virgin olive oil (use to oil pan, hands, and the top of the baked dough)
Spray bottle filled with water (for steam to help crisp the focaccia)
---
Baker's note: Add 1 clove roasted garlic to the dough for added flavor. Try additional toppings such as onions, olives, veggies, cheese or meat for more variations.
---
DIRECTIONS:
Prepare pizza dough according to the directions on the bag.
Add chopped fresh rosemary to the dough mixture.

Pour 1½ tablespoons of the olive oil into a 9x13 pan, and spread evenly with your fingers. Transfer the dough to the oiled pan. With the extra oil, press the dough with your hands to fill the pan. Let it stand in a warm place until the dough rises, about 45 minutes.

Position a rack in the center of the oven and preheat to 450 degrees. Using your fingers with a little oil, gently dimple the top of the dough. 

Place the focaccia in the oven. Aiming the spray bottle at the walls of the oven (not over the top of the focaccia) spray water into the oven. The water will create steam to help crisp the focaccia. Bake until focaccia is golden brown, about 20 minutes. Cool in the pan for 20 minutes before serving. Cut into rectangles and serve warm or at room temperature.

Bon Appétit! 
---