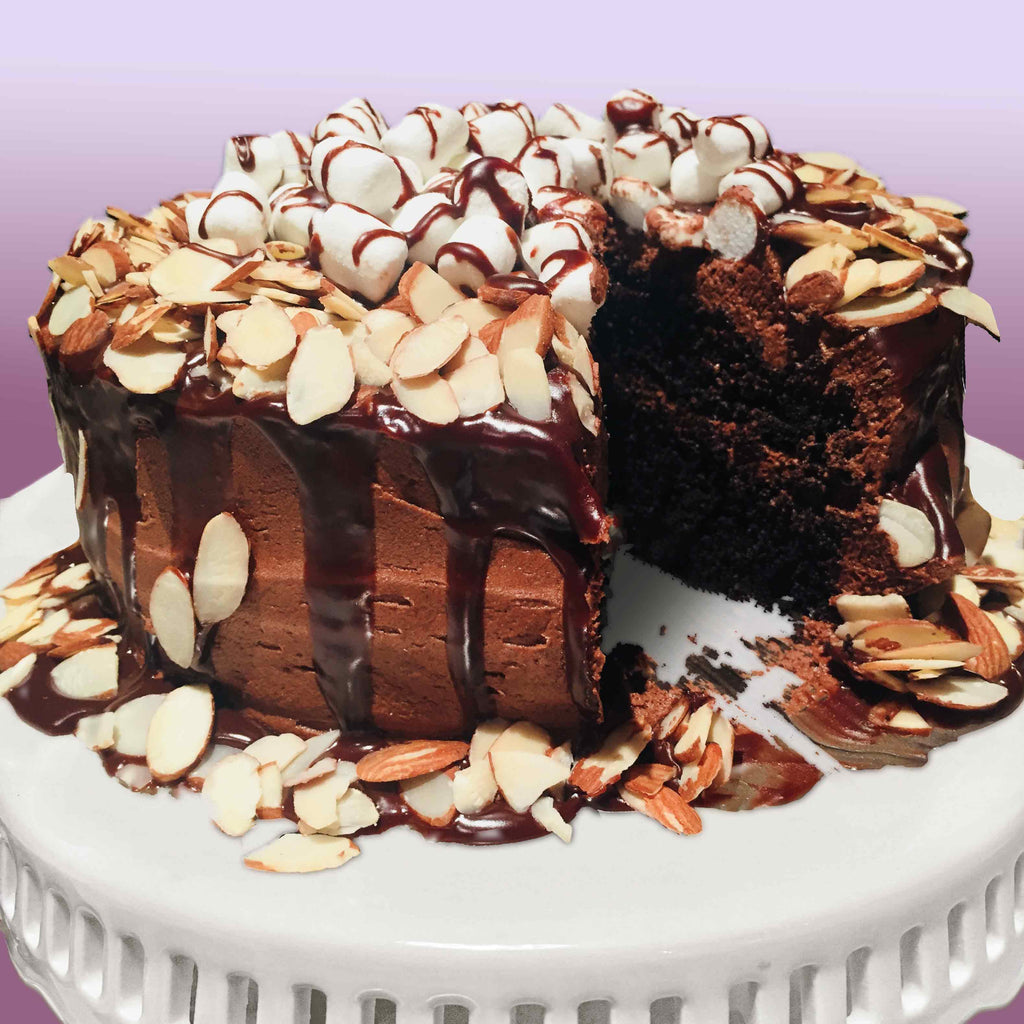 Toasted almonds, gooey marshmallows and lots of chocolate… I think I died and went to Heaven!  The warm chocolate melted and the marshmallows looked — and TASTED — better than I could've ever imagined. This Almond Rocky Road Chocolate Cake is a decadent, rich, moist and full-bodied chocolate cake. It really is the BEST gluten-free chocolate cake ever! Most of our friends are peanut-free, so we revamped the traditional rocky-road recipe to be allergen safe. What we love most is our friends have fallen in love without knowing it's a gluten-free cake! Ooh-yeah!
PREP 50 min. | BAKE 18-20 min.| MAKES 2 8-inch cakes
Ingredients:
½ c milk of choice
1 egg or see egg sub (simply-eggless or just egg)
¼ c light oil
1 tsp gluten-free vanilla extract
½ c boiling water or hot coffee
HEAT: Preheat oven to 350° and grease pan of choice.

MIX: In a large mixing bowl add mix, milk of choice, egg, oil, and vanilla. Beat on medium speed, scraping sides. Pour in boiling water or coffee and mix on low until blended. Beat on high for 2 min.

BAKE: Pour batter into greased pan and bake. Baking is complete when inserted toothpick comes out clean. Cool 10 minutes and remove from pan and cool completely. 
8" Rounds:  bake 18-20 min.
9" Square:  bake 30-35 min.
Cupcakes:  bake 18-20 min.
MAKE FROSTING: Our gluten-free chocolate buttercream frosting and Chocolate Ganache recipes make this cake come together. Click on the links to make the frosting and ganache.
ASSEMBLE: Place one cake on a 10-12-inch cake plate. frost the first round of cake with buttercream reaching the top edge of the first layer. (Optional Filling) Top frosted cake with marshmallows, toasted almonds and drizzle with ganache. Place the next layer on top. Frost the outer edge with buttercream and top with chocolate ganache. Allow ganache to drip down the sides. Pile marshmallows in the center and drizzle with chocolate ganache. Sprinkle toasted almonds around the edge of the top cake and the lower cake layer.