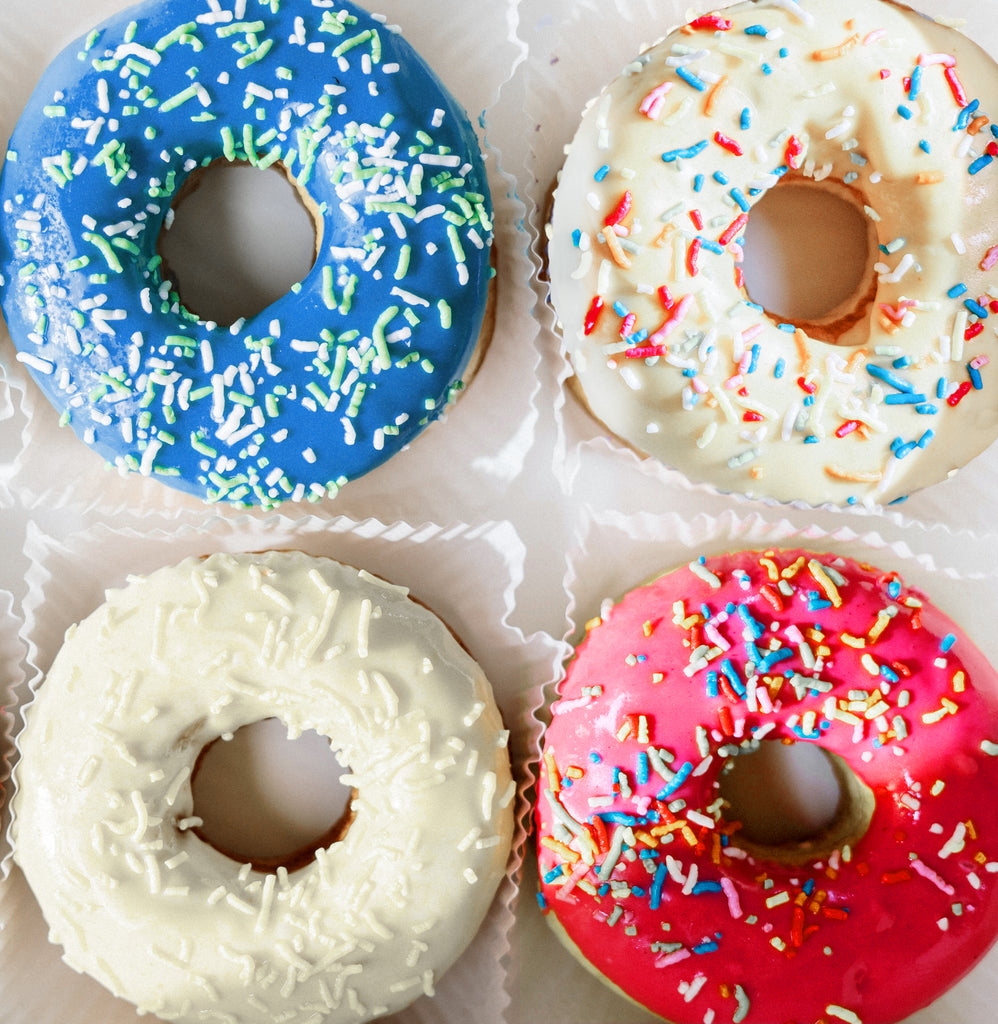 Vanilla iced donuts are deliciously light soft buttery cakes that are baked instead of fried and iced with a sweet and creamy vanilla icing. There is no better breakfast treat to start the day than with these wonderful sweet gems.
Prep: 15 min. Bake: 18 min. Makes: 1 dozen donuts
Ingredients:
Donut Batter
5 Tbsp. butter, melted or dairy-free butter
½ c. sugar or sugar substitute
1 large egg (or egg substitute of 2 tsp baking powder, 1 tablespoon water and 1 tablespoon of vinegar)
½ c. buttermilk (Make buttermilk by adding ½ tsp. vinegar to milk - let sit 5 minutes)
1 tsp. vanilla
1 ½ c. Donut Mix
Vanilla Icing
1 c. confectioners sugar
1-2 Tbsp. milk
1 tsp. GF vanilla extract
1 pinch of salt
GF food coloring (opt)
sprinkles (opt)
You will need a donut or muffin pan.

Directions:
Preheat oven to 350ºF. Lightly grease donut or muffin pan and set aside. 
In a medium bowl melt butter. Add sugar, egg and vanilla and whisk together. Pour buttermilk over top.
Measure 1 1/2 cup donut mix into the milk & egg mixture. Stir together with a fork until smooth. The batter will become thick but silky smooth.
Spoon donut batter into a pastry bag fitted with a large round tip or into a ziplock baggie with the tip cut off. Pipe batter into the donut ring until full. If using the muffin pan, fill each well

½

full.
Bake at 350ºF for 18 minutes. Allow to cool slightly before dipping in icing
In a small to a medium-sized mixing bowl, combine the confectioners sugar with 1 tablespoon of milk and vanilla extract. Mix, then add more milk as needed to reach your desired consistency for the icing. Add food coloring if desired.


Dip baked and cooled donuts into the icing with the tops facing downward until halfway submerged into the icing. Place dunked donuts back onto a wire cooling rack over a sheet of parchment paper. Add sprinkles. The glaze will harden over time, depending on your icing consistency.

Happy eating!