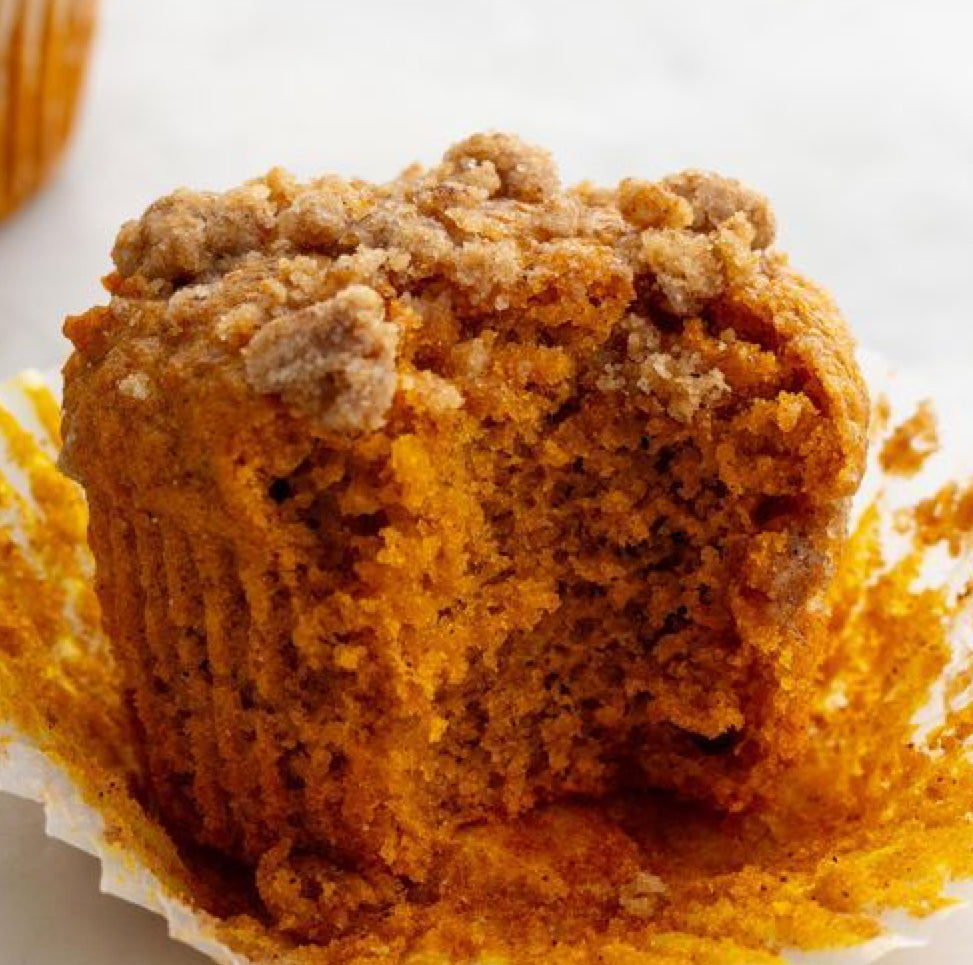 The first cool fall breeze means it's "pumpkin muffin" time! These pumpkin muffins wouldn't be complete without plenty of warming spices including cinnamon, ginger and nutmeg. Most "pumpkin spice" flavor comes from the spice, not the pumpkin. And these pumpkin streusel muffins are extra moist, full of pumpkin spice flavor and topped with a crunchy brown sugar streusel. Let's make some!
Prep: 10 min | Bake: 23 min | Makes: 18 muffins
Ingredients
1½ c. pumpkin puree

1 c. sugar or sugar substitute

2 x-large eggs or ½ c. "Just Egg" or "Simply Eggless"

⅓ cup melted butter of choice or oil

2 tsp. GF vanilla extract (McCormick's)

1½ 

tsp. pumpkin spice or

½ tsp. ground ginger

½ 

tsp. ground cinnamon 

½ tsp. ground nutmeg
Streusel Crumb Topping
½ c. MinusG's The Perfect Pie Crust Mix
½ c. brown sugar

½ 

tsp. cinnamon 
2 Tbsp. melted butter of choice

½ tsp. GF vanilla extract 
Directions
Preheat oven to 350°F. Grease muffin tin or line with paper cups.

In a large bowl, add pumpkin puree, sugar, eggs, melted butter and vanilla  and mix together.  

In a separate bowl, combine 1½ cups muffin mix, pumpkin spice. 

Add dry ingredients to pumpkin mix and stir together. To avoid clumps, stir the center first until the dry mix has blended 

into the pumpkin mixture. Scrape the off the sides and stir until fully combined. 
In a separate bowl add streusel ingredients. Stir together with a spatula; it will be thick and will crumble into dime or pea-size pieces. Set aside. 
Fill the muffin cups ⅔ full with batter and sprinkle tops generously with streusel. Bake at 350

°F for 22-25 minutes

 until toothpick, inserted into the center, comes out clean. *(Oven temps may vary bake-times)
Remove from tin and cool completely on a wire rack. Enjoy!
*** Baking a Loaf? Set oven temp to 350°F and bake 50-60 minutes or until toothpick, inserted into the center, comes out clean.