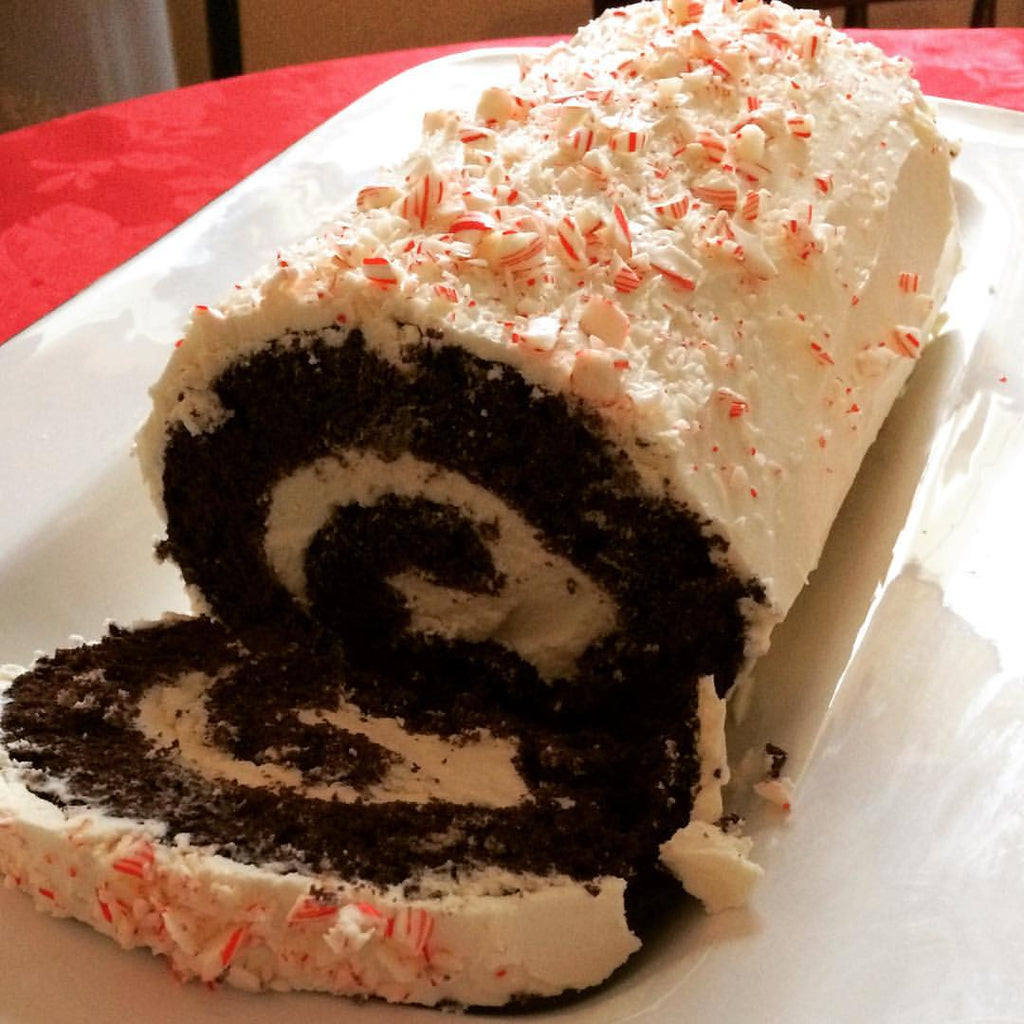 Growing up, we were so lucky to have some amazing desserts and pastries, especially at Christmas. If you have read my story, you'll know that my great great great Grandfather used to own a bakery. Unfortunately I didn't have the pleasure to know him, but it was my Grandmother who carried on the baking. As a kid I remember her making fresh baked goodies for the holiday.
This year, I decided to make the traditional yule log, bouche de noel, using our gluten-free chocolate cake mix. And because I'm a peppermint lover, for the filling, I made a peppermint buttercream but then added in some melted belgium white chocolate. It was so good! I'm so happy I made this cake, not only was it delicious but it is a perfect sweet treat for winter holidays and parties. I will definitely be making this again for Christmas, and can't wait for my family to taste it!
Makes 12-15 slices
Chocolate Sponge Cake

1 bag of MinusG The Best Ever! Chocolate Cake Mix
4 egg yolks
1/2 cup milk or milk substitute
2 Tbsp oil
1 tsp GF Vanilla
1 tbsp + 2 1/2 tsp granulated sugar
4 egg whites
3 sticks butter, slightly cool 
2 c. + 2 Tbsp confectioner sugar
1/2 c. white chocolate melted
pinch of salt
2 tsp vanilla extract

1/2

tsp peppermint extract
2 tbsp heavy cream or milk
6 crushed candy canes
Instructions

For the Chocolate Sponge Cake

Preheat the oven to 350 degrees. Line a 15x10 jelly roll pan with parchment paper and lightly grease.
Separate the egg yolks from the egg whites. 
In a large mixing bowl, add the eggs yolks. Using the paddle attachment, mix on medium-low speed until it is thick, and pale yellow. Add the milk, oil, vanilla, and chocolate cake. Mix on medium-low speed until fully combined. Transfer the mixture to a large bowl, about 5 quarts. (if you have another mixing bowl you can just keep it in there)
In a clean mixing bowl, whisk the separated eggs whites, on medium speed for about 1 minute, or until foamy. Lower the speed and to add the 1 tbsp plus 2 1/2 tsp of sugar, then increase the speed to medium-high and whip until the whites are glossy with soft peaks, aprox. 3 min.
Fold the egg whites into the cake mix. (Note: To fold in egg whites, use a spatula and lightly sweep the sides of the bowl by lifting the batter into the egg whites). Do this until there are no more white streaks.
Pour the batter onto the parchment paper, and spread the batter evenly, being sure to get it into the corners.
Bake the cake for 15-18 minutes, or until a toothpick inserted into the center comes out clean. Let cool.
Make the Peppermint Buttercream

Place butter in a bowl of a stand mixer. Using the paddle attachment, beat the butter until smooth.
While butter is beating, melt the white chocolate in a small bowl. Place in the microwave 25-30 second intervals stirring in-between until it is smooth and creamy. Set aside too cool.
Turn mixer off and add powder sugar. On a low speed mix  powder sugar in until blended. Scrape the sides of the bowl to losen any butter or sugar and blend once more.
Add melted chocolate, salt, vanilla, peppermint extract and cream. Blend, then increase speed to med-high and beat until light and fluffy 1-2 minutes.
Spread 1/2 of the peppermint buttercream onto the cake, leaving about a 1/2-inch on all sides. Using the parchment paper to help you, gently roll the cake starting from the short side into a tight roll. It may crack just a little but that's okay, just keep going. Place the cake so that the seam side is down. Diagonally cut about 3/4 to 1-inch off both ends of the cake. Transfer the cake to a cake platter, or serving dish.

Spread the remaining buttercream on the cake, to the top, sides, front and back of the log. Sprinkle with crushed candy canes.
The cake can be refrigerated or left at room temperature. Remove from the fridge at least 1 hour before serving.