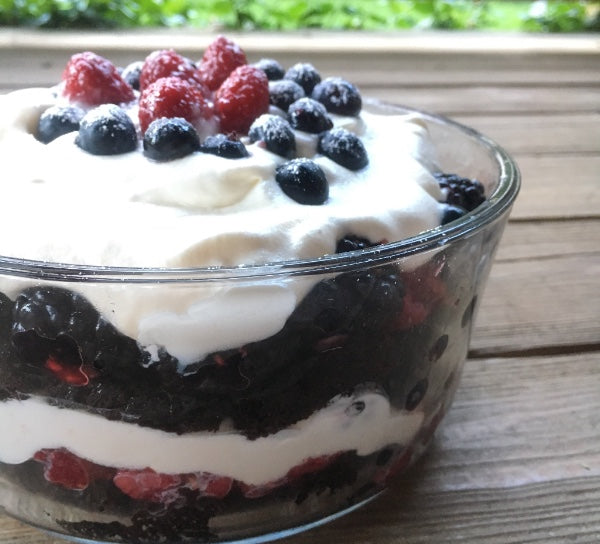 This simple recipe is such a pretty dessert for Memorial Day or summer barbecues!  Although it seems elaborate, a trifle is quick to assemble. Fresh, juicy berries, chocolaty cake, and sweetened whipped cream, add delicious layers of silky indulgence. This is a great dessert to enjoy the summer months.
- - - -
Serves 6
Ingredients
Chocolate Cake
Fruit Mixture
2 lb. mixed berries, such as strawberries, raspberries, blackberries and blueberries, in any combination, plus more whole berries for garnish

¼

c. superfine sugar
1 tsp orange extract
Sweet Whipped Cream
2 cups heavy cream

¼

c. confectioners' sugar
1

½

tsp. vanilla extract
Directions
Prepare MinusG's The Best Ever Chocolate Cake Mix in a 9" square pan as directed on the bag. Let cool completely.
If using strawberries, hull and slice them. Place them in a bowl and add the other berries. Add the superfine sugar, orange extract and stir gently to mix. Set aside to soften for at least 1 hour or up to 3 hours.
Cut the cake into 1-inch cubes and set aside until ready to assemble the trifle. You should have about 6 cups.
Using an electric mixer, beat together the cream, confectioners' sugar and vanilla until soft peaks form, about 3 minutes.
Select a glass trifle bowl 9 to 10 inches in diameter and 5 inches deep. Arrange a single layer of the cake cubes in the bottom of the bowl. Spoon one-third of the softened berries over the cake. Repeat the layers twice finishing with whipped cream topping.
Cover with plastic wrap and refrigerate for at least 4 hours or up to 24 hours to allow the flavors to marry.
Just before serving, garnish the trifle with whole berries and mint. ~ Enjoy!