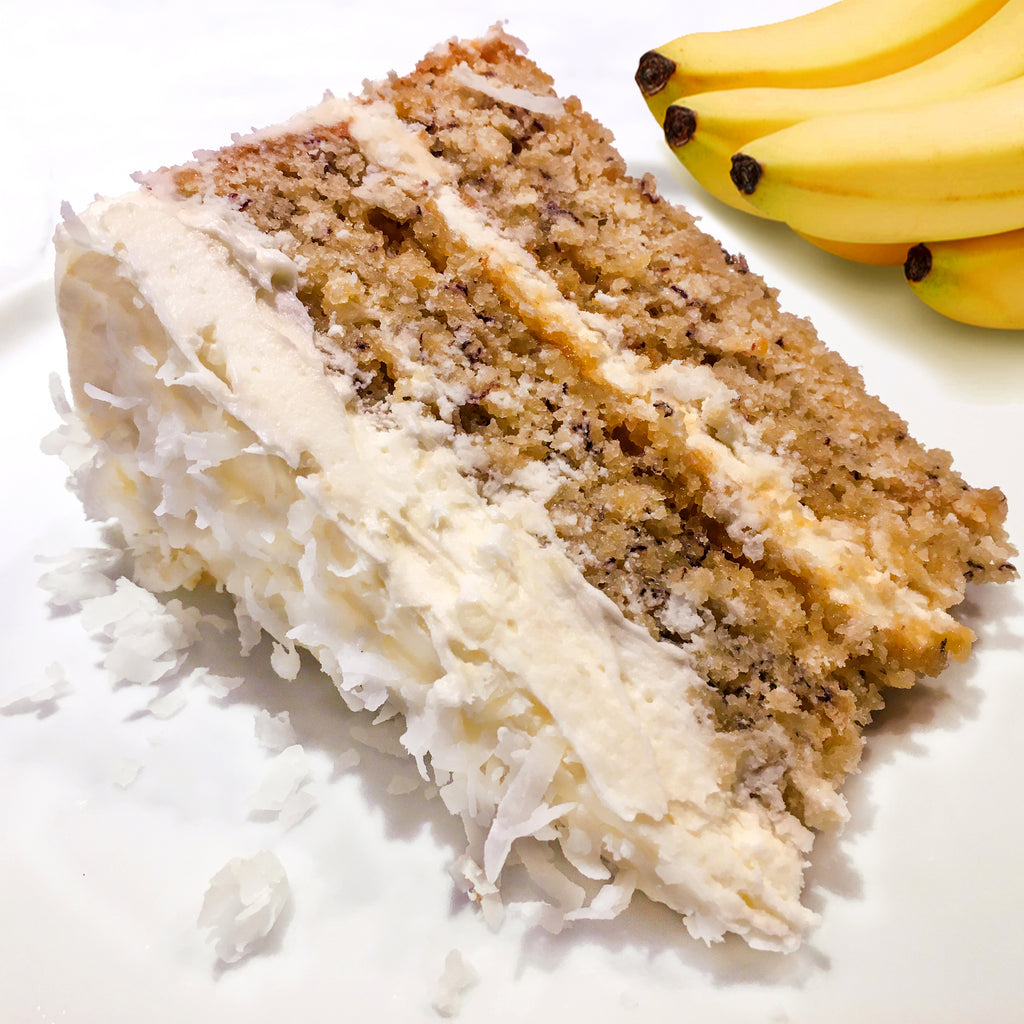 This gluten-free banana coconut ginger cake recipe is easy as 1-2-3, and it comes out delicious every time! It is the most moist, flavorful, melt-in-your mouth banana cake. It's coconutty, and loaded with banana sweetness then topped with creamy coconut frosting! It's a perfect match! 
Banana Coconut Ginger Cake
Makes 2 9" rounds

Ingredients
For the cake:
2 tsp ground ginger


1 c. ripe bananas mashed (approx 2 bananas)

1¼ c. sugar or sugar substitute equivalent.
3 eggs or see substitute

⅓

c. melted butter
1 tsp GF vanilla extract 
1 tsp coconut extract
½ c. coconut milk
For the Frosting:
1 stick butter of choice, softened
1 8oz. cream cheese of choice
½ tsp salt
2 Tbsp coconut milk
½ tsp vanilla extract
½ tsp coconut extract
½ c. shredded coconut for topping
Directions
Make The Cake:
Preheat oven to 350°F. Grease 9x9-inch pan, or 2 8" rounds and line the bottom with parchment paper. This makes for an easy release.


Add ground ginger to the banana bread bag and set aside.

In a large bowl, mash bananas into small bite-sized pieces. Add sugar, eggs melted coconut oil and vanilla to the bananas and mix together.  
Empty the banana and ginger mix over banana-egg mixture.
Stir the center until the flour has blended into the banana mixture. Continue stirring until only the flour remains on the outer edge. With a fork, scrape the flour off the sides towards the center and stir until fully mixed together. (stirring from the center keeps the flour mixture from clumping into little flour balls and gives a smooth batter aside from the banana pieces.)
Pour batter into prepared pans and bake 35-45 minutes or until toothpick, inserted into the center comes out clean and cake center should spring back when lightly pressed
Remove from oven and cool completely on a wire rack. Use a table knife to release cakes from the sides of the pans. Turn out cakes on a piece of parchment paper.
Make The Coconut Frosting:
In a large bowl using a hand-held mixer or stand mixer fitted with a whisk or paddle attachment, beat the butter and cream cheese together on medium speed until creamy and smooth, about 2 minutes. Add confectioners' sugar, coconut milk, vanilla extract, coconut extract, and salt. Turn the mixer on  low,  increasing incrementally to a med- high speed. Scrape down sides of bowl and beat on high for 3 minutes. Add more confectioners' sugar if frosting is too thin, more coconut milk if frosting is too thick, or an extra pinch of salt if frosting is too sweet.
Assemble:
Place the first layer, top side down onto a round cake plate. Frost top generously. Peel and slice 1-2 bananas and set slices into the frosting. Lightly frost the top of the second cake layer. Lay the second cake, top side down, on top of the first cake layer. Generously frost the top and sides. (For a naked cake, frost sides with a light layer of frosting. The cake will show through, but the light amount of frosting will keep the cake sides moist)
Sprinkle coconut on top. Slice & Serve.