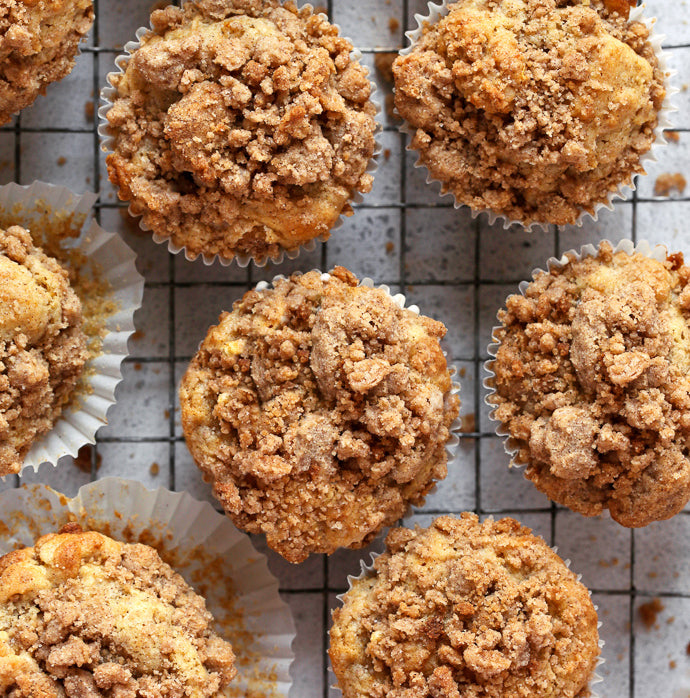 This terrifically tender Apple Cinnamon Muffin is another new favorite. It's soft, it's sweet and it's jam-packed with fresh, juicy apples. It boasts of a sugar cinnamon crumble, that once baked, becomes crisp and flavorful. This deliciously easy melt-in-your-mouth recipe only needs a bowl. Trust me, this is a muffin you won't be able to resist.  
Makes 1 dozen
Ingredients:
1 ½ c. MinusG Muffin Mix 
1 ½ tsp. baking powder

¾

c. sugar
1 c. apple diced (approximately 1 large apple)
2 eggs 

For egg-free: 2 tsp baking powder + 1 Tbsp. vinegar + 1 Tbsp water per egg

2 tsp. GF vanilla extract
⅓ c. oil
½ c. yogurt or diary-free yogurt
Cinnamon streusel topping
2 Tbsp muffin mix
⅓ c. sugar
½ tsp. cinnamon
1 Tbsp. butter, melted or dairy-free butter
Directions:
Preheat oven to 350 

°F

. Grease or line a muffin tin.
In a large mixing bowl, add muffin mix, baking powder, and sugar. Add chopped apple and stir briefly to combine.
In a separate bowl, add eggs, vanilla, oil and yogurt. Whisk together.
Add wet ingredients to dry ingredients and gently mix with a fork until combined. Spoon batter into prepared tin.
To make cinnamon topping, combine cinnamon, sugar and butter. Mix together until lumpy and wet. Sprinkle over cake batter.
Bake muffins 18-20 minutes or until a toothpick inserted into the middle comes out clean. Let cool 5 minutes then transfer to a wire rack to cool completely.
Serve as a dessert, make a simple glaze or warm the muffin and serve it with a scoop of vanilla ice cream.
Mix together

¼

cup powdered sugar and 1 tablespoon of milk. Stir until smooth. If the glaze is too thick, add an extra tablespoon of milk. Drizzle glaze all over the cake.