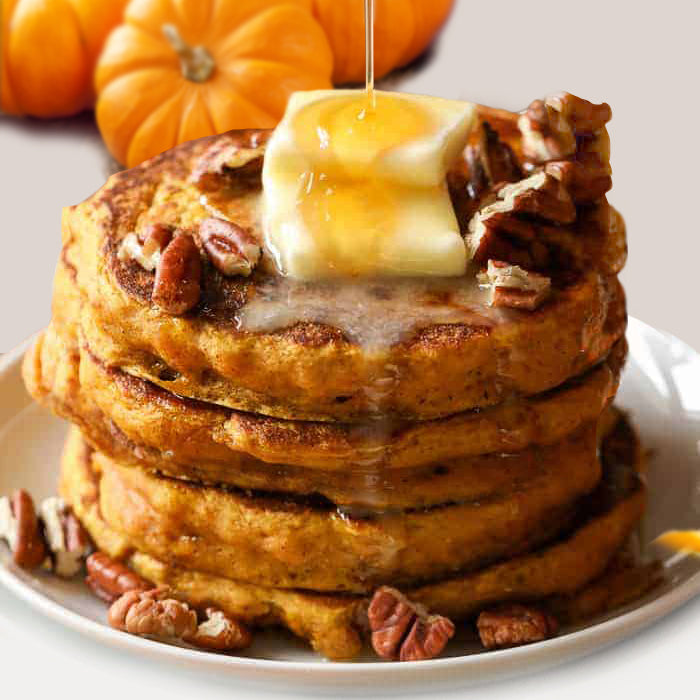 Pumpkin pie pancakes are a wonderful treat. Not only are they buttery, fluffy, with golden crisp edges, but these are an easy morning breakfast that satisfies those pumpkin pie cravings. Topped with maple syrup, they are oh so delicate and delicious!
Prep: 10 min. | Cook Time: 5 min. | Makes: 11 pancakes
Ingredients
¼ tsp. baking soda
2¾ tsp. pumpkin spice or

1 tsp. cinnamon
1 tsp. allspice
½ tsp ginger
¼ tsp nutmeg

⅓ c. pumpkin puree (not pumpkin pie filing)
1 egg
¾ c. milk

2 tbsp melted butter

½ - 1 tsp. GF vanilla extract
Directions:
MIX: Mix together pancake mix, soda, and spices in a large bowl. Whisk together pumpkin puree, egg, butter, and vanilla extract in a small bowl. Stir in milk. Add dry mixture and stir until combined well. 
PREP: Heat a griddle to 350 degrees or large skillet over medium heat.
MAKE: Measure 2 Tbsp. of pancake batter onto skillet for each pancake. Cook for 1 to 2 minutes, until bottom is golden brown and edges begin to bubble, then carefully flip and cook on the other side for 1 to 2 more minutes. (for fluffy pancakes, flip cakes as bubbles start to form) 
SERVE: Top with a pad butter, toasted pecans and warm syrup. 
To make Cinnamon Roll Pancakes and more recipes with the pancake mix, click here.
Note: If your pancakes are pale on the underside yet bubbles are breaking on the surface then your heat is too low.
If your pancakes are golden or brown on the underside before bubbles begin to break on the surface then your heat is too high.