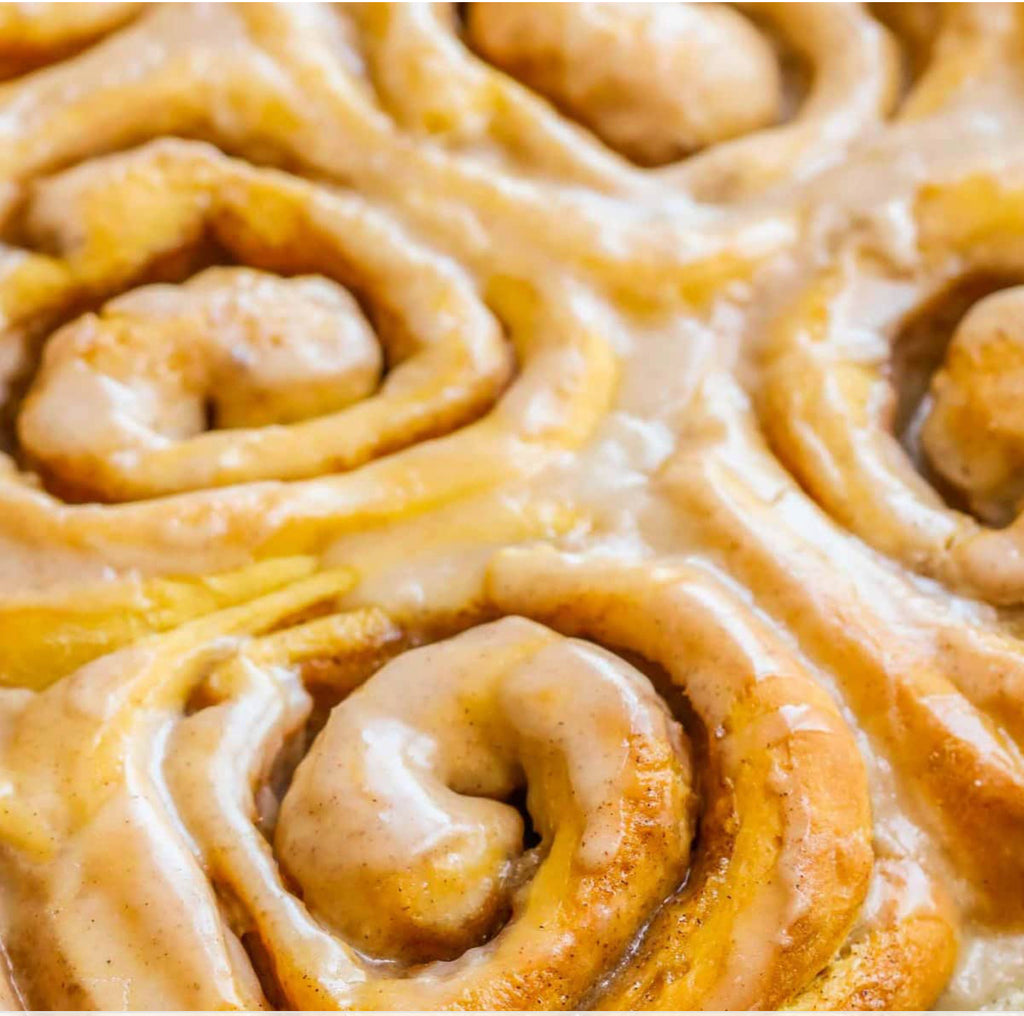 Soft and gooey pumpkin cinnamon rolls topped with a delicious pumpkin spice glaze are a fun fall twist on our favorite cinnamon rolls. Between the pumpkin flavored bread dough, the pumpkin spice filling, and the pumpkin spice glaze on top, this dessert has all the goods! Share these and you'll make new friends! Share. Eat. Smile.   
Pumpkin Cinnamon Rolls
Prep: 1.3 hr | Bake: 22-25 min | Makes: 9 large or 18 small rolls
Ingredients
For the Dough 
3 Tbsp.

granulated sugar

3 Tbsp. soft butter of 

choice

2 eggs or make egg free (½ c. Simply Eggless or Just Egg brands)

⅔ c. pumpkin puree

1½ - 2 tsp. pumpkin spice

1 tsp. GF vanilla extract

⅓ c. + 1 Tbsp. milk of choice

½

 c. tapioca or cornstarch (for pressing out).
For the Filling
½ c. brown sugar or sugar of choice
1½ tsp. pumpkin spice or measured spices below
½ tsp. cinnamon
4 Tbsp. melted butter of choice 

6 Tbsp. cream or dairy-free cream
Cream Cheese Frosting
½ lb cream cheese or Kite Hill cream cheese at room temp.

4 Tbsp. butter of choice at room temp.

3 Tbsp. maple syrup
⅛ tsp. pumpkin spice
dash of nutmeg

2 tsp. GF vanilla extract (I use McCormick's pure vanilla extract)

1 c. confectioner's sugar.

Add 2-3 Tbsp. milk for thinner glaze
Directions
PREP: Grease pan or line with parchment paper and set aside.

Large Rolls 9 x 9
Small Rolls 13 x 9

MIX: In the bowl of an electric stand mixer, add the cinnamon roll mix, granulated sugar, butter, eggs, vanilla, pumpkin puree, pumpkin spice and heated milk. Using the flat paddle, combine on low speed until the ingredients come together (The milk should register between 100-110˚F. To test manually; it should be hot to the touch but not burning. If it's burning, let it cool slightly).
ASSEMBLE - Press Out Dough: Lay 2 pieces of plastic wrap on a flat surface (The plastic wrap is necessary to roll dough). Sprinkle 2 Tbsp of tapioca starch into the center. Transfer the dough onto the starch. Sprinkle the top of dough with another 2 Tbsp of starch (Dough will be sticky. The starch helps to keep the dough from sticking to your hands.). Using your hands, Press dough into a rectangle about 9 by 14 inches. 
ASSEMBLE - Fill & Roll Dough: Spread melted butter on the dough, covering the surface. In a bowl, combine sugar with pumpkin spice. Sprinkle evenly with the cinnamon sugar mix. Starting at the long side closest to you, lift the plastic wrap and turn the edge of the dough onto itself. Continue lifting the plastic wrap to roll up the dough, forming a log by rolling the rectangle away from you (If dough sticks to the plastic wrap, use a knife or a metal cake spatula and gently separate dough from wrap). Once rolled up, place seam-side down. Push uneven ends in towards the center of the log. Cut the log in thirds, then divide each half into 3 evenly-sized slices. Arrange the slices, cut side down, in the prepared pan. Pour warmed cream over the rolls (The warm cream will make the cinnamon sugar center creamy and not grainy).
BAKE: Cover rolls with plastic wrap or a towel. Let rise in a warm place about 1 hour. Preheat an oven to 350°F. Bake until the rolls are golden brown and a toothpick inserted into the center of a roll comes out clean, 22 to 25 minutes. 
TOP & SERVE: While baking, combine cream cheese, butter, spices and vanilla in the bowl. With a fork or handheld beater, mix until smooth, light and fluffy, about 2 minutes. Add confectioners sugar and blend until thoroughly combined, stopping the mixer to scrape down the sides of the bowl as needed. Transfer the pan with the rolls to a wire rack and let cool slightly. Spread the rolls with the frosting while they are still warm. Pull the rolls apart and serve warm. Share. Eat. Smile.