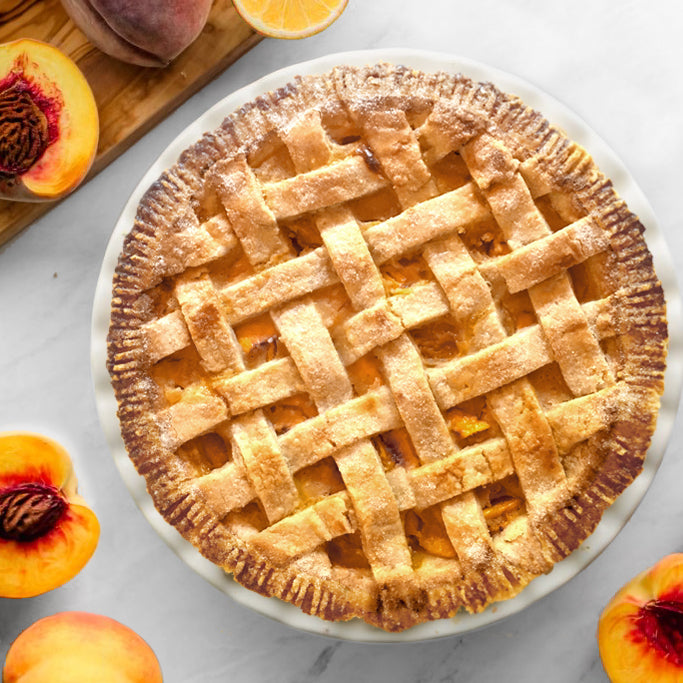 This is the most delicious peach pie recipe! The secret to it's extraordinary flavor is the orange juice and zest. The orange gives just the right amount of tang while enhancing the fresh peach flavor. Let's dig in! 
Perfect Peach Pie
Makes one 9-inch pie
Ingredients
6 large peaches. Immerse in boiling water 15sec. - 2 min. to loosen skins. Cool in cold water to stop cooking and peel. Cut 1 peach into 

½

-inch dice pieces. Slice remaining peaches into

 

½

-inch slices and set in a large bowl.

½

cup granulated sugar
3 Tbsp tapioca starch

¼

cup fresh orange juice

½

tsp orange zest
1 Tbsp butter

2-3 Tbsp Pie Crust Mix

1 egg beaten with 1 Tbsp water
Directions
Make 2 crusts from The Perfect Pie Crust Recipe
Roll out half of the dough for the bottom crust and place into the pie plate.
In a small saucepan, whisk together sugar, starch, orange juice, zest, and butter over medium heat and bring to boil, stirring constantly. Add only diced peaches and return to boil. Lower heat to simmer and stir occasionally 2-3 min until mixture has thickened and translucent.
Combine the mixture with sliced peaches and 2-3 Tbsp. Pie Crust Mix, depending on the juiciness of the peaches. (add more if peaches are juicier)
Pour the peach mixture into the pie shell.
Roll out remaining pie dough until it's larger than the pie plate. Cut into 1-inch stripes and weave them together on top of the pie plate. (if dough breaks, piece together, It will look like a masterpiece when baked : )
Use water to moisten the two layer of crust and seal both crusts together with a fork.
Place the pie on the large baking sheet. Bake, rotating pie after 30 minutes, until crust is golden brown and any juices that escape are thick; about 45 - 1 hour. 
Remove from the oven and cool. Serve at room temperature.
Eat. Enjoy. Smile. Then smile again.
Make-ahead Tip/Freezing: This a great pie to make 1 day in advance -- after it cools, cover tightly and keep at room temperature. The pie crust dough can also be prepared ahead of time and stored in the refrigerator for up to 5 days or in the freezer for up to 3 months. Baked and cooled pie freezes well for up to 3 months. Thaw overnight in the refrigerator and allow to come to room temperature before serving.