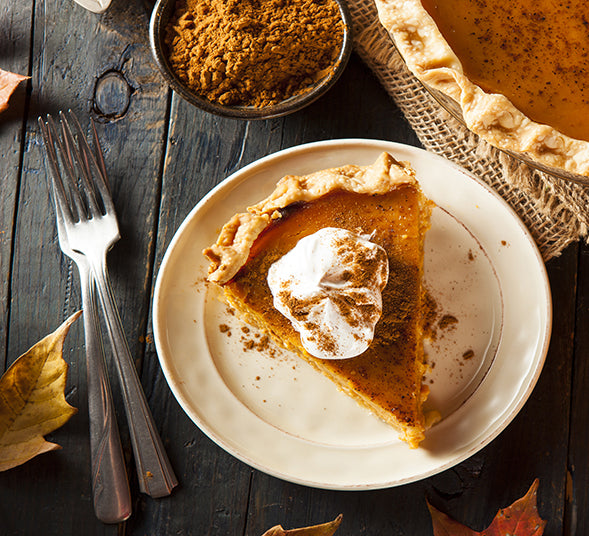 Gramby's Pumpkin Pie
This recipe is my grandmother's (Gramby's) original pumpkin pie. My grandmother was a fabulous baker, and cookie maker extraordinaire! She enjoyed sharing her love of baking with her friends and family. And being one of her seven grandchildren, I loved opening the boxes she sent because they were filled with delicious goodies.
I wanted to share this recipe with you because it is lighter than most pumpkin pies. The ratio of spices to sugar create the perfect balance of flavor. I've adapted her family-famous recipe to make a gluten-free pumpkin pie using MinusG's Pie Crust Mix. Each Thanksgiving these pies are "gobbled" up leaving only a crumb trail. I've included dairy-free and egg-free options. Enjoy! 
Ingredients
1

9" or 10"

MinusG pie crust (

½

bag of The Perfect Pie Crust Mix)
2 c 100% pumpkin

 

1 cup sugar

½ tsp ginger ground

½ tsp cinnamon ground

¼ tsp nutmeg ground

¼ tsp sea salt

3 beaten eggs (for egg-free, add 6 Tbsp of potato or corn starch)
2 c Milk (for dairy-free, use canned coconut milk)

For Nut-free: replace both egg and milk with tofu - we recommend one 12oz silken tofu, blended until smooth
Directions
Make MinusG Pie Crust and set aside.

Measure pumpkin, sugar, ginger, cinnamon, nutmeg and salt into a mixing bowl. With the whisk attachment, whisk together on medium speed.

Reduce speed to low and add eggs. Slowly pour in milk and whisk until fully incorporated.

 

Pour into prepared pie crust.

Bake at 350° for 1

¼

- 1

½

hour or until knife inserted in filling comes out clean. Remove from oven and cool completely. 
Serve with a dollop of whipped cream.

Vegan Whipped Cream: we recommend Cocowhip by So Delicious
Homemade Whipped Cream
Ingredients
1 c heavy whipping cream

2 Tbsp confectioners sugar

1 tsp GF vanilla extract
Directions
Place a metal mixing bowl and metal whisk into the freezer for 10 to 15 minutes.
Place the sugar and vanilla into the mixing bowl and add the whipping cream. Whisk just until the cream reaches stiff peaks (over-whisking will make a sweet butter).
Store any unused portion in an airtight container for up to 10 hours.
When ready to use, re-whisk for 10 to 15 seconds.