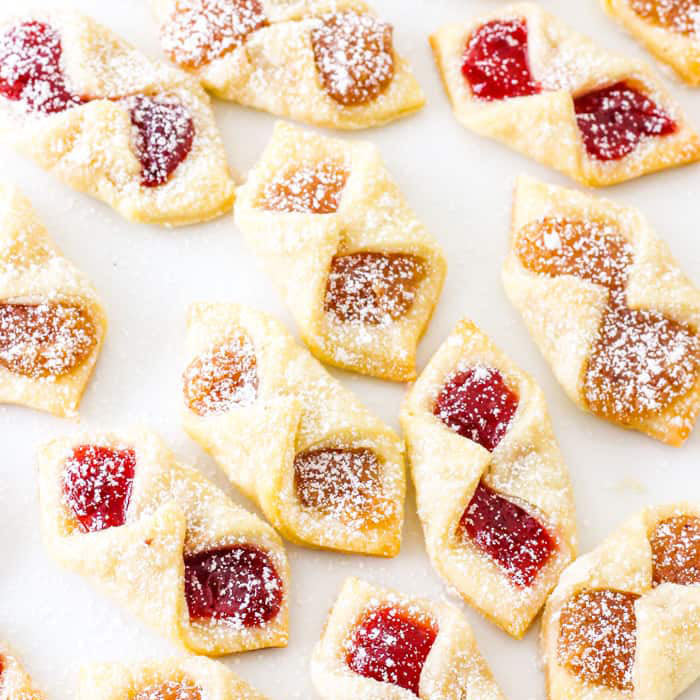 Kolaczki
Recipe makes approx.40 cookies
Kolaczki are classic Polish cookies made with butter and cream cheese. It's the butter that's makes these gluten-free cookies so rich, buttery and flaky. Filled with fruit preserves, nuts or cream cheese, these delicate Polish pastries are a perfect compliment with a cup of tea. Delish!
Ingredients
1½ sticks butter softened.
4 oz cream cheese (room temperature)
1 egg + egg yolk
½ c tapioca starch or starch of choice to roll the dough
½ cup confectioners sugar for dusting 
Fillings
Seedless Fruit Preserve/Jam
2 (14oz) jars (apricot, raspberry, plum, etc.).  
Cream Cheese Filling
8oz Cream Cheese softened
1 egg yolk 
1/4 cup sugar
1 tsp vanilla
pinch of salt
Walnut Filling
2 cups walnuts finely chopped
¾ cup sugar
1 egg white well beaten
2 Tbsp. softened butter
1 tsp vanilla
pinch of salt
Directions
Cream together room temp butter, cream cheese until smooth. Add eggs, and beat until, fluffy and light in color, approximately 2-3 min.
Add Kolaczki Cookie Mix to the butter mixture and beat together until smooth. Divide dough in half, wrap and press into a 4-inch round.  Refrigerate dough 1 hour or overnight.
Prepare fillings by combining the ingredients together until blend. 
Preheat oven to 375° and line baking sheets with parchment paper.
Prepare a surface that has been dusted with starch. Take half the dough and roll to 1/8-inch thick, using a ruler to measure thickness. (Rolling it on a plastic wrap surface makes for easy clean-up.) 
Cut the dough into 2" squares. Fill with ½ tsp. filling of choice. Overlap opposite corners of the dough to the center over filling. Use a dab of egg white or water to help seal dough. Repeat this step with the remaining half. (If dough becomes too sticky, use starch keep the dough from sticking.) 
Bake 13-15 minutes or until cookie edges are starting to brown. Cool completely and dust with confectioners sugar when ready to serve. Eat. Smile.
Storage: Place in an air tight container layered with parchment paper and store in a cool area up to 2-3 days. Cookies may become a little soggy due to the moisture. Dust lightly with confectioners sugar just before serving.
***Do not freeze baked cookies - they will be soggy after thawing.
Prepare ahead! These cookies are easy to prepare and can be made ahead. Fill and freeze the unbaked cookie. Transfer frozen cookies to a  freezer-safe container separated by sheets of parchment paper. Simply remove from freezer, heat the oven, and in minutes, you'll have fresh-baked cookies ready to serve. Yum!