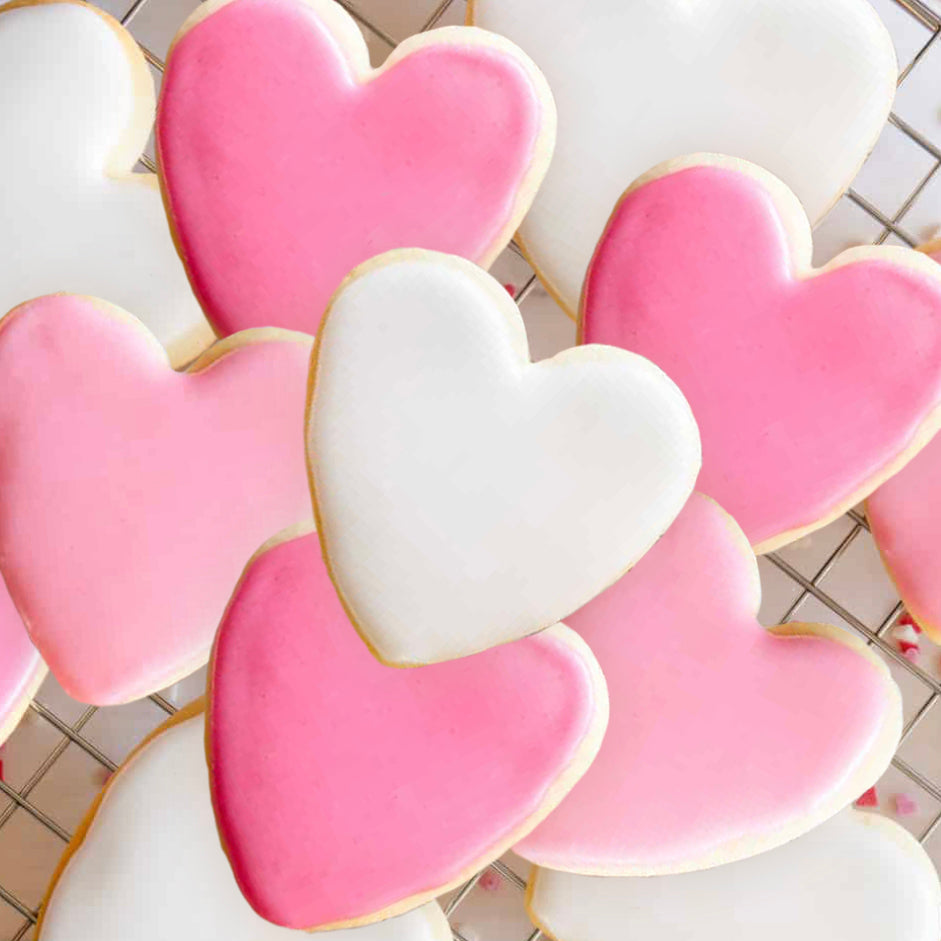 Cut-out cookies are a fun treat to celebrate anytime of the year. These heart-shaped sugar cookes are crispy on the outside and chewy on the inside. Their buttery flavor and soft texture make them irresistibly good! Running short on time? Roll cookie dough into balls and bake. Add a little frosting with sprinkles, and everyone will think you baked for hours! They're so delicious!  

PREP 40 min. | BAKE 6-8 min. | MAKES 4 dozen.
Ingredients:

For the cut-out cookies

½ c butter of choice, softened
1 c sugar or granular sub
1 egg or ¼ c "Just Egg" or "Simply Eggless"
¼ c sour cream of choice - or 1 Tbsp sour milk of choice
1 tsp GF vanilla extract
½ tsp GF almond extract (opt.)
1 bag MinusG Sugar Cookie Mix
Frosting
10 Tbsp butter of choice, soft
2 tsp GF meringue powder (opt)
4 c powdered sugar
4 Tbsp milk of choice, warm
1 tsp GF vanilla extract
⅛ tsp salt
sprinkles optional
Food coloring (AmeriColor and McCormik are gluten-free)
Directions:
MIX: Cream butter and sugar Add egg, sour cream, vanilla, almond extract and mix together. Add cookie mix and beat until the dough pulls away from the bowl.
CUT OUT: Roll dough 1/8" thick on a lightly starched surface lined with saran. Cut out 3" to 4" cookies. Place cookies on parchment lined baking sheet.  
*Dairy-free? Refrigerate cookies 30 minutes before baking.
BAKE: Cut-outs: 400° 6-8 minutes.  Traditional-rounds: 375° 7-9 minutes. Edges should be a light golden color. Cool completely before frosting. 
Decorate: 
Frosting: Cream butter. Add remaining ingredients and mix together. Beat until fluffy. 
Icing Recipe: Blend 1½ c powdered sugar, ¼ tsp GF vanilla extract and 2-3 Tbsp cream (for desired thickness).
MIX the icing in a large mixing bowl. Whisk together the powdered sugar, corn syrup, vanilla extract, and milk (start with 3 tablespoons) until well combined. To test the icing, lift the whisk (or spoon) from the mixing bowl, you should still see the ribbons of icing that fall back into the bowl for a few seconds. If needed, add more milk to thin out the icing or add more powdered sugar to make it thicker.
Separate the icing into mixing bowls and add food coloring as needed. If the icing becomes thinner because of the food coloring, add a little more powdered sugar until it has reached your desired consistency.
Make Cookie Dough Ahead: 
These cookies are easy to made ahead. Simply prepare the dough, chill and cut out cookies. Freeze the unbaked cookies. Transfer frozen cookies to a freezer-safe container separated by sheets of parchment paper. To bake, heat oven to 400° and set cookies on parchment paper lined baking sheets and bake. In minutes you'll have fresh-baked cookies waiting to ice or frost.