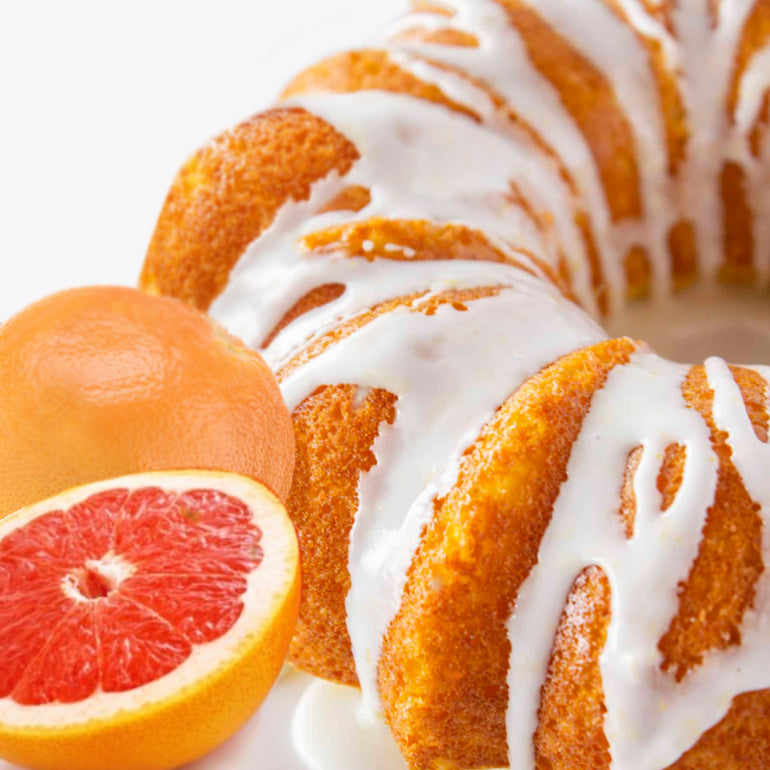 This citrus cake is simple, delicious and has become our favorite way to enjoy fresh grapefruit and yogurt. It's light and tender, subtly sweet, bright and flavorful and NEEDS to make an appearance for Easter, Mother's Day, and or Sunday brunch! Just saying, it's really that good! Made with our MinusG White Cake Mix,
PREP: 25 min | BAKE: 35-40 min | MAKES: 1 bundt cake or 2 (1lb) loaf pans
Bundt Cake

¾ c. sugar or granular substitute
1 heaping Tbsp. pink or ruby red grapefruit zest, about 1 grapefruit
2 eggs 

For egg-free substitute with "Simply Eggless" or "Just Egg"

1 c. gf plain greek yogurt of choice


½ c.

oil
2 tsp. GF vanilla extract

½ c

. pink or ruby red grapefruit juice
1 bag MinusG White Cake Mix
Grapefruit Glaze

⅓ c. pink or ruby red grapefruit juice
1 Tbsp granulated sugar
Icing

2 Tbsp grapefruit glaze
1 c. powdered sugar
pinch of salt
Directions
Make the Cake 
PREP: Heat oven to 350°F. Grease a bundt cake pan extremely well with butter or dairy-free butter. Sprinkle the bottom of the pan with sugar to make it easier to release the baked cake.
MIX: In a large bowl, add sugar and grapefruit zest. With a spoon, press the sugar into the grapefruit zest. The sugar will turn a blush-like color. (Crushing the sugar crystals into the zest makes this cake so flavorful.) Mix eggs, yogurt, oil, grapefruit juice, and vanilla into the sugar mixture. Add the white cake mix and whisk together until incorporated. Scrape down sides of the bowl and beat just until the ingredients are fully blended. Pour the batter into the pan.
BAKE: Bake 35-40 minutes or until a toothpick inserted comes out clean.
MAKE GLAZE: Place 1/3 cup fresh grapefruit juice and 1 tbsp granulated sugar in a microwave-safe measuring cup or bowl. Microwave on high until bubbling and sugar has melted, about 1 minute. Whisk together and set aside to let cool; reserve 2 tbsp of the glaze for the icing.
MAKE ICING: Whisk together 2 tbsp of the prepared glaze, the powdered sugar, and salt in a small bowl until smooth and pourable. 
ASSEMBLE: Remove cake from the oven, and poke holes into the hot cake all over the top with a toothpick or fork. Pour glaze slowly over the hot cake and let the glaze soak into the cake for 10-15 minutes. Turn hot cake onto a cake plate and let cool completely. Once the cake is fully cooled, drizzle the icing over top. Slice and serve.