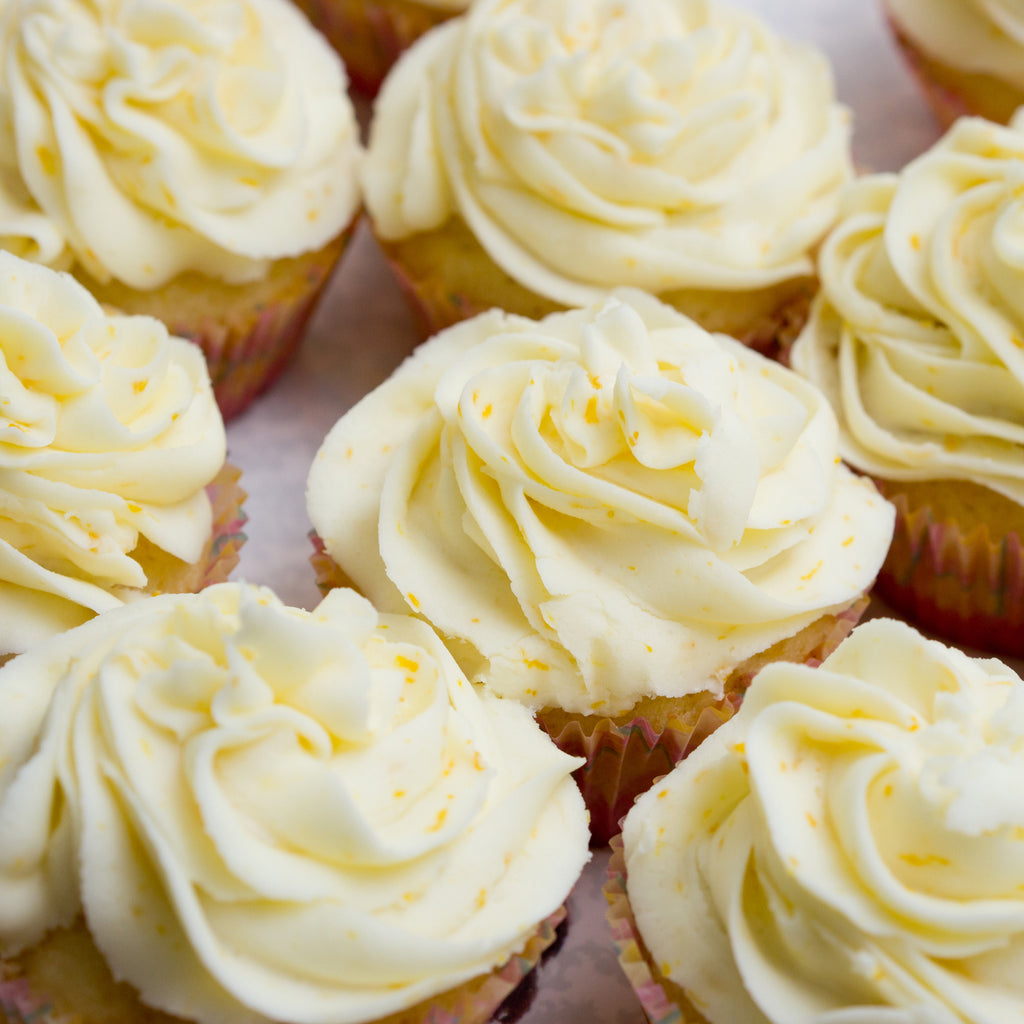 This is the best gluten-free lemon cupcake recipe ever! Every bite bursts with a citrus and melt-in-your-mouth tenderness that is perfectly fluffy. The creamy frosting is not overly sweet, has the perfect amount of lemon; clearly present, but it won't make you pucker. It's elegant, easy-to-make with the MinusG White Cake Mix, and can turn any day into a sunny celebration. Let the celebration begin!

Gluten-free Lemon Cupcakes
PREP: 25 min | BAKE: 16-18 min | MAKES: 24 cupcakes
Ingredients
For the Cupcakes
½ c. lemon juice

½ c.

milk / non dairy milk
1 bag MinusG White Cake Mix
1½ c. sugar or granular substitute
1 heaping Tbsp lemon zest (about 2-3 lemons)
⅔ c. light oil 
4 eggs 

For egg-free use 2 tsp baking powder + 1 Tbsp vinegar + 1 Tbsp water per egg.
For the Lemon Cream Cheese Frosting 
1 8oz. cream cheese 

or dairy-free - cream cheese - Kite Hill

1 c. softened butter (2 stick) or butter substitute
5 c. powdered sugar
2 Tbsp lemon juice
zest of 1 lemons
1 tsp GF vanilla extract
pinch of salt
Directions
Cupcakes
PREP: Grease cupcake pans. Heat oven to 350°F.
MIX: Combine lemon juice and milk and let sit 5 minutes. In a stand mixer, add cake mix, sugar, lemon zest, oil, eggs, lemon-milk mixture and blend together. Scrape down sides of the bowl and beat 2 minutes. Divide batter evenly between cake pans.
BAKE: Bake for 16-18 minutes or until a toothpick inserted comes out clean. Cool cupcakes completely on a wire rack. 
Lemon Cream Cheese Frosting 
MIX: In a large stand mixing bowl, beat the butter on medium speed until creamy, about 2 minutes. Add the cream cheese and beat until completely smooth and combined. Add powdered sugar, lemon juice, lemon zest, vanilla extract, and a pinch of salt. Mix on low to incorporate. Beat on high speed for 3 minutes. 
TOP: Frost the cupcakes and enjoy!