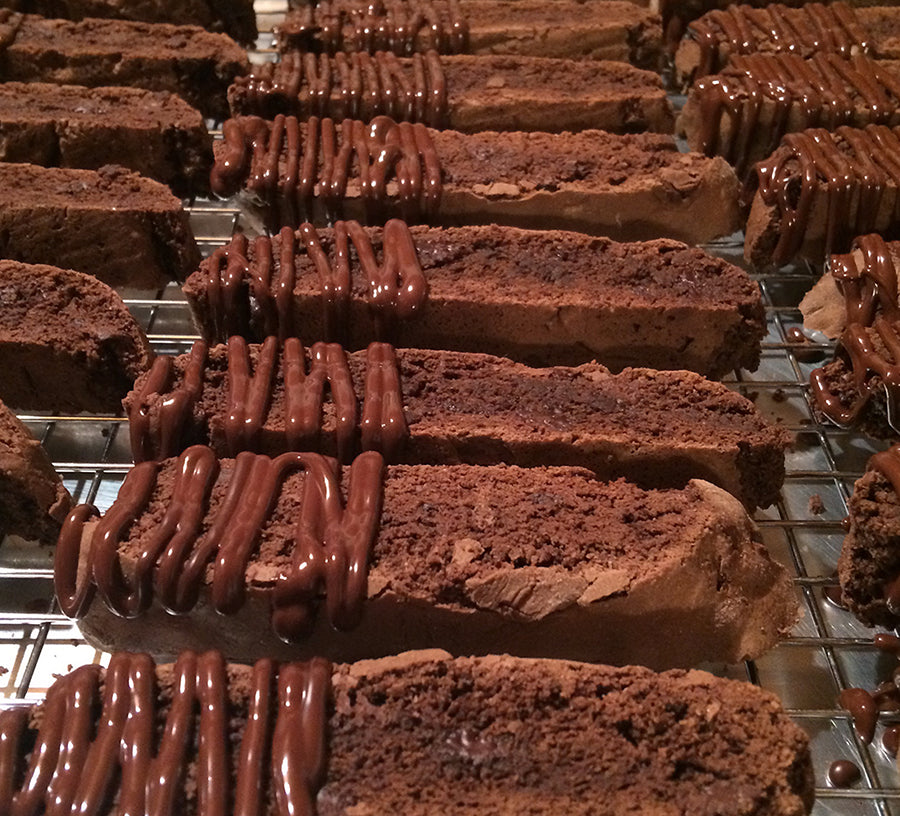 These double chocolate biscotti are different from the biscotti sold in most coffee shops. When you dunk these into a warm beverage, they soften, becoming rich, chocolaty and decadent.
Biscotti may seem like a grown-up's cookie, but my young nieces and nephews enjoy them too. Served with a glass of warm milk or hot chocolate for dunking, you'll have very happy kids.
PREP 20 min. | BAKE 45-55min. | MAKES 16-18 cookies.
 Ingredients
6 Tbsp butter softened (butter substitute - earth balance butter stick)

½ c. 2 Tbsp. sugar (granular substitute)

¼ c. cocoa powder

1½ tsp. GF vanilla extract

1 egg + 1 egg white 

¾ tsp. soda

½

tsp. salt slightly

⅓ c. chocolate chips

extra chocolate chips for drizzle (optional)
Directions
Preheat oven to 350° F. Position rack in the center.
Line baking sheet with parchment paper.
In a stand mixer, whisk together butter, sugar, and cocoa powder until well blended.
Add vanilla, eggs, measured pie crust mix, soda, salt, and chocolate chips and mix until just incorporated.
Use a large rubber spatula to scoop the dough onto a piece 12"x 18"sheet of plastic wrap. (the plastic wrap will keep the dough from sticking to your hands) Use the plastic wrap to roll dough into a log about 14" long. Transfer the log to the parchment paper. Lay the plastic wrap on top of the log and press with a rolling pin to flatten into 14" x 4" wide. Square up the ends. (If making dairy-free, refrigerate log 1 hour before baking.)
Bake for 25 minutes. Remove from oven and loosen baked loaf from the parchment paper with a wide metal spatula. Using a serrated knife, slice cookies at an angle about 

½ -  ¾ inch thick.

Reduce oven temp to 300

° F. 

Lay cookies slice side down and return to the oven for another 10-15 minutes. Turn slices over and bake another 10-15 minutes. (The longer they stay in the oven, the crispier they get). 
Drizzle with chocolate and let cool completely. 
Store in air tight container.
Freezer Friendly instructions: The Dough can be Frozen for up to 3 Months:
Shape the dough into a log, wrap securely in plastic wrap, and place in a sealable bag.
When ready to bake, remove the logs from the freezer, thaw the dough until pliable, and then proceed with the recipe.
To Freeze After Baking:
Prepare your biscotti up through the first round of baking and cut them before freezing – this allows you to do more of the work ahead, and because it will already be sliced, it will take less time to defrost and bake.
After the biscotti are completely cooled, double-wrap them securely with aluminum foil or plastic freezer wrap.
Thaw overnight on the countertop before serving.