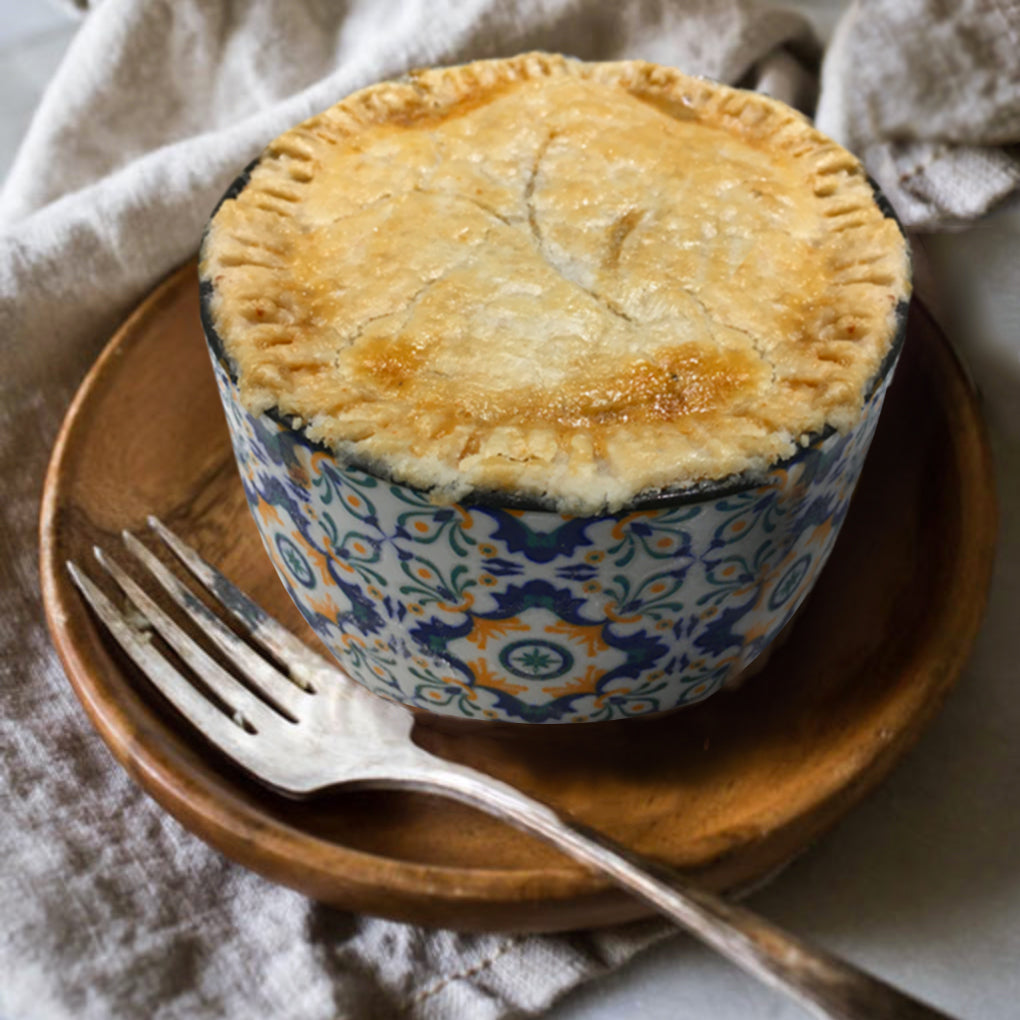 Chicken Pot Pie
Homemade chicken pot pie is comfort food at its best. And every bite is like a warm hug! The savory blend of creamy chicken with vegetables will warm and soothe the soul. Easy to make, this recipe is just a few steps from crust-to-hot savory pies. You'll have everyone thinking you've cooked all day!
TIPS: 
For a time saver, try using frozen vegetables and rotisserie chicken. 
Dairy-Free? No worries! Earth balance soy-free buttery spread or Country Crock Avocado Butter are our top choices and are found in most grocery stores. 
To add more flavor, cook bones in a stock pot just covered with water. Boil and reduce the heat to low. Simmer for 30-45 minutes.
Cold or frozen butter is what makes a flaky crust. The fat morsels trapped inside the dough create these delicate layers of flakiness. Over-mixing and soft butter make a tough and crunchy crust. Refrigeration helps to prevent the fat from softening.
Pie Crust Ingredients
1½

tsp salt

1

 cup + 2 Tbsp shortening / butter of choice 
½ cup ice water

¼

cup tapioca starch for rolling dough
Pie Crust Directions

MIX: Combine pie crust mix and 1½ tsp salt together in a large bowl. Add the shortening. Using a pastry blender or two forks, cut the shortening and/or butter into the mixture until it resembles coarse meal (pea-sized bits with a few larger pieces). A pastry cutter makes this step very quick and easy. Add ½ cup of very cold water and stir with a rubber spatula or fork. Gather the dough into a ball and pack it together like a snowball. If it's too dry, add 1 Tbsp water as needed. Note: during the winter months you may need a Tbsp or 2 more.

ROLL: Lay 2 pieces of plastic wrap about 15 inches in length side-by-side on the counter, overlapping the edges about 2 inches and press together. Dust the plastic wrap. Divide dough and roll 1 half out on prepared surface. Use tapioca starch to keep rolling pin from sticking to dough. Roll to 12 inches in diameter.
TRANSFER: Transfer the crust by lifting the plastic wrap: with palm facing up, slide one hand under the plastic wrap, and lift crust to transfer into a 9x2-inch pie plate. Center crust in the plate, and press into place. Remove the wrap from the dough. Trim excess from the edge with a small knife. Repeat to roll out the top crust. Refrigerate until filling is ready.

Chicken Pot Pie Filling Ingredients

2-3 cups rotisserie chicken, shredded into small pieces
2 cups chicken broth or homemade stock 
3 stalks celery diced
1 10 oz. bag frozen peas and carrots / or 3 medium carrots, peeled and diced and 1/2 cup frozen peas
1 onion chopped
5 Tbsp. butter of choice
⅓ cup potato starch or starch of choice
1 cup heavy cream / dairy-free: substitute coconut cream/silk heavy cream
1 sprig fresh thyme

½ 

tsp. salt, to taste
black pepper, to taste
egg wash (1 egg mixed with 2 Tbsp. water or cream) / egg-free: substitute chickpea juice
Chicken Pot Pie Directions

PREP: Preheat the oven to 400° F.
SAUTE: Slice the celery stalks into narrow strips, then dice. Repeat with onion. Melt the butter in a large pot or Dutch oven over medium heat. Add the celery, onion, frozen carrots and peas. Saute until the vegetables start to turn translucent, a couple of minutes. Add 2 cups of the shredded chicken and stir to combine. Sprinkle the potato starch evenly over the vegetables and chicken, and stir to combine. Cook a couple minutes, stirring gently. Pour in the chicken broth, stirring constantly. Pour in the cream and stir. Allow the mixture to cook over low heat, thickening gradually, about 4 minutes. Season with thyme, salt and pepper, and remove from the heat. Taste and adjust the seasonings as needed. Be sure it's adequately salted.

ASSEMBLE: Pour the chicken mixture into the prepared pie crust. Transfer top crust over the pie plate. Trim the excess from the edge and seal together with a fork. Cut the top crust (to allow pie to bubble while baking). Brush with egg wash.

BAKE: Bake until the crust is golden brown and the filling is bubbly, about 30-45 minutes. Cool for 10 minutes before serving.
STORAGE
FREEZE: Allow the filling to cool completely then top with the crust. Cover with plastic wrap or aluminum foil and place in the freezer.
COOK FROM FROZEN: Remove the pot pie from the freezer, brush with egg wash and place directly in a 375° F oven and bake until lightly browned and bubbly, 30 to 45 minutes.