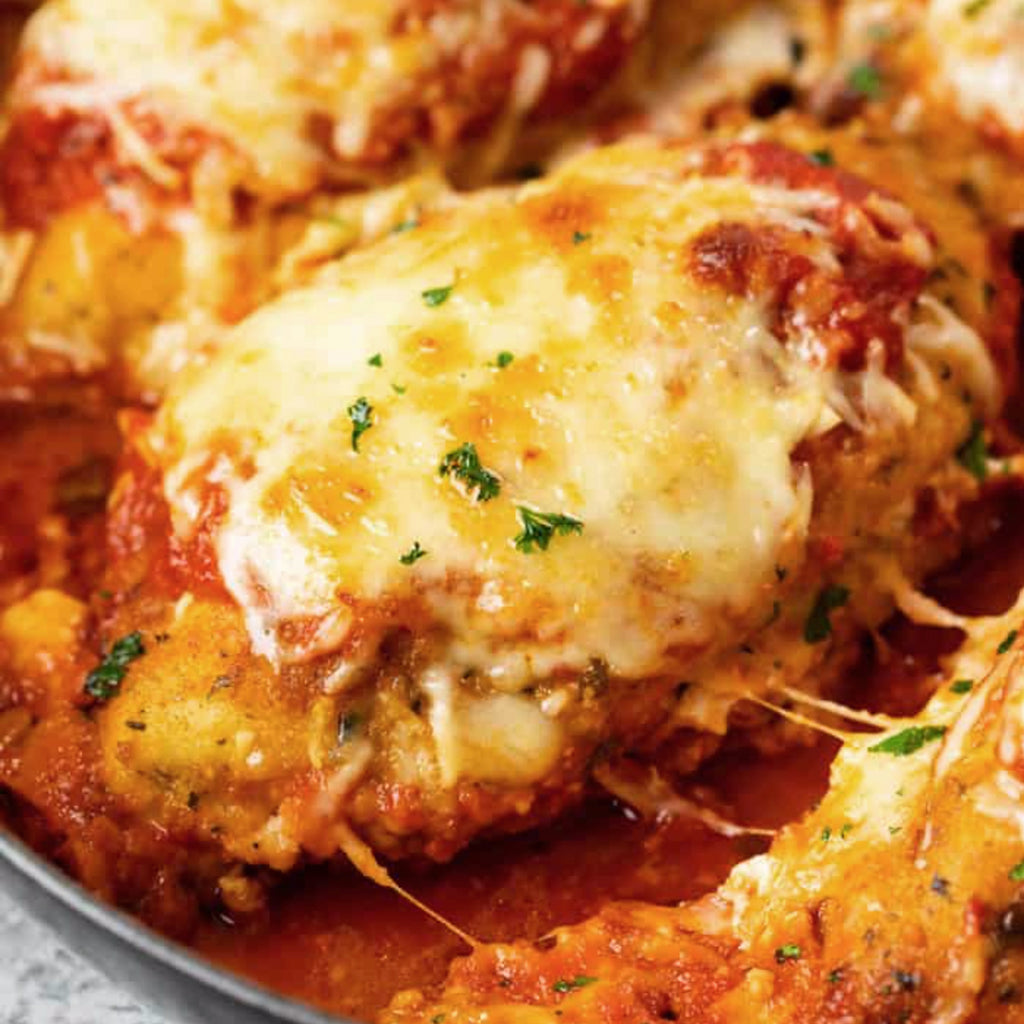 On a busy week night, this easy Chicken Parmesan is a light, simple, savory meal.  We started by blending the pancake & waffle mix with parmesan cheese to make the breading on this chicken and the results were amazing! 
I topped it with my favorite marinara sauce, Rao's, shredded cheese and a combination of fresh basil, thyme and parsley. Yum! Follow these easy steps for crispy and tender cutlets in just 35-40 minutes from start to finish!
Savory Parmesan Chicken 
Serves 4-6
Ingredients:
4 chicken breasts (boneless and skinless)

¼ tsp black pepper

½ c. grated Parmesan cheese

1 lg egg 

beaten 
2 Tbsp. butter
2 Tbsp. olive oil (extra for cooking)
1 c. marinara sauce

½ c. shredded 

mozzarella cheese

½ c. shredded provolone 

cheese
fresh herbs for garnish
Directions:
Preheat oven to 375° and grease 9" x 13" baking pan.
Slice chicken breasts to

½

inch thickness or flatten between two pieces of saran wrap or parchment paper with a flat kitchen mallet to

½

inch thickness

.
Season with black pepper.
Using two shallow bowls, combine the pancake mix and the Parmesan cheese in one bowl, and the beaten egg to the other. 
Add butter and olive oil to a 10" skillet over medium heat. 
Start by dipping the chicken cutlets into the egg enough to coat.
Dredge chicken, both sides into the pancake & cheese mixture until fully coated.
Sear chicken in skillet in batches so it does not overcrowd the pan. Cook for 3-4 minutes on each side until golden brown. *Note: chicken will be raw inside.
Place chicken into prepared pan. Spoon the marinara on the tops of each breast.
Bake in hot oven for 12-15 minutes.
Top chicken with shredded cheeses and bake for 5 minutes or until cheese is melted.
Remove from heat and garnish with fresh herbs.
Serve over noodles and/or with a side of vegetables of your choice. 
Eat. Savor. Smile.