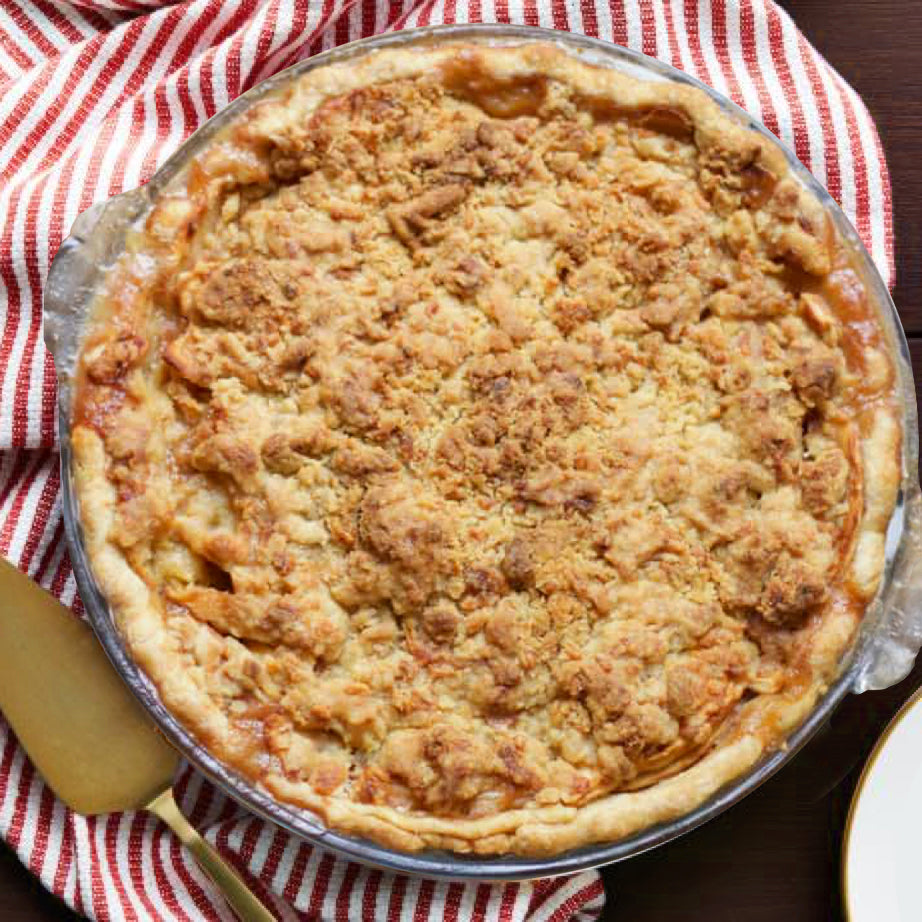 There's nothing more satisfying than making a pie completely from scratch especially with locally-grown produce. I like to shop at our local farm market for crisp tart apples so they don't losing their integrity while baking. This gluten-free Rustic Apple Streusel Pie has a scrumptious, flaky crust, with a rich apple filling that's juicy, and is the perfect pairing for vanilla ice cream! I think it should be call "The Apple Pie You Must Must Try!" I can't wait for it to cool.Gluten-free Rustic Apple Streusel Pie Recipe
Ingredients
Rustic Apple Filling
1 MinusG pie crust (½ bag of MinusG Pie Crust Mix)
6 large apples, cored, peeled, and sliced into

¼

-inch slices (approx 8-10 cups total - use a variety for better flavor, such as Honeycrisp, Zestar, Cardinal, or and Granny Smith)
⅔ cup granulated sugar
3 Tbsp tapioca starch
2 Tbsp fresh lemon or lime juice
2 tsp pure maple syrup

½

tsp ground cinnamon

(I use

p

ensey's

v

ietnamese

ground cinnamon

)

¼

tsp GF vanilla extract
1 egg beaten with a hand blender
Streusel Crumb Topping
6 Tbsp MinusG Perfect Pie Crust Mix
3 Tbsp sugar
1 Tbsp light brown sugar

½ 

tsp cinnamon
2 Tbsp melted butter

½ tsp GF vanilla extract 
Directions
Make 1 MinusG pie crust and set aside.
Gently toss the apples, sugar, tapioca starch, lemon/lime juice, maple syrup, cinnamon and vanilla in a medium bowl until well combined.
Set apple filling aside and preheat oven to 350°F. (As the oven preheats, this time allows the apples to begin letting off their juices.)
 Line a large baking sheet with parchment paper.
Streusel Crumb Topping
Combine the brown sugar, sugar, cinnamon, and pie crust mix in a small bowl.
Stir together the melted butter and vanilla in another small bowl. 
Gradually stir the butter mixture into the sugar/flour mixture, just until evenly moistened. Squeeze the mixture in your hands until thoroughly combined. 

Crumble into small lumps and

 fine crumbs.
Assemble
Heap the apples in the pie crust, mounding high in the center.
Brush the edges of the crust with the egg.
Sprinkle the streusel topping over the apples to cover them. 
Place the pie on the

large baking

sheet. Bake, rotating pie after 30 minutes, until crust is golden brown and any juices that escape are thick; about 1 hour. 
Remove from the oven and cool slightly.
Serve warm with vanilla ice cream, or whipping cream.
Eat. Enjoy. Smile. Then smile again.
Leftovers: Cover any pie leftovers tightly and store in the refrigerator for up to 5 days.
Make-ahead Tip/Freezing
This a great pie to make 1 day in advance -- after it cools, cover tightly and keep at room temperature. Baked and cooled pie freezes well for up to 3 months. Thaw overnight in the refrigerator and allow to come to room temperature before serving. The pie crust dough can also be prepared ahead of time and stored in the refrigerator for up to 5 days or in the freezer for up to 3 months.