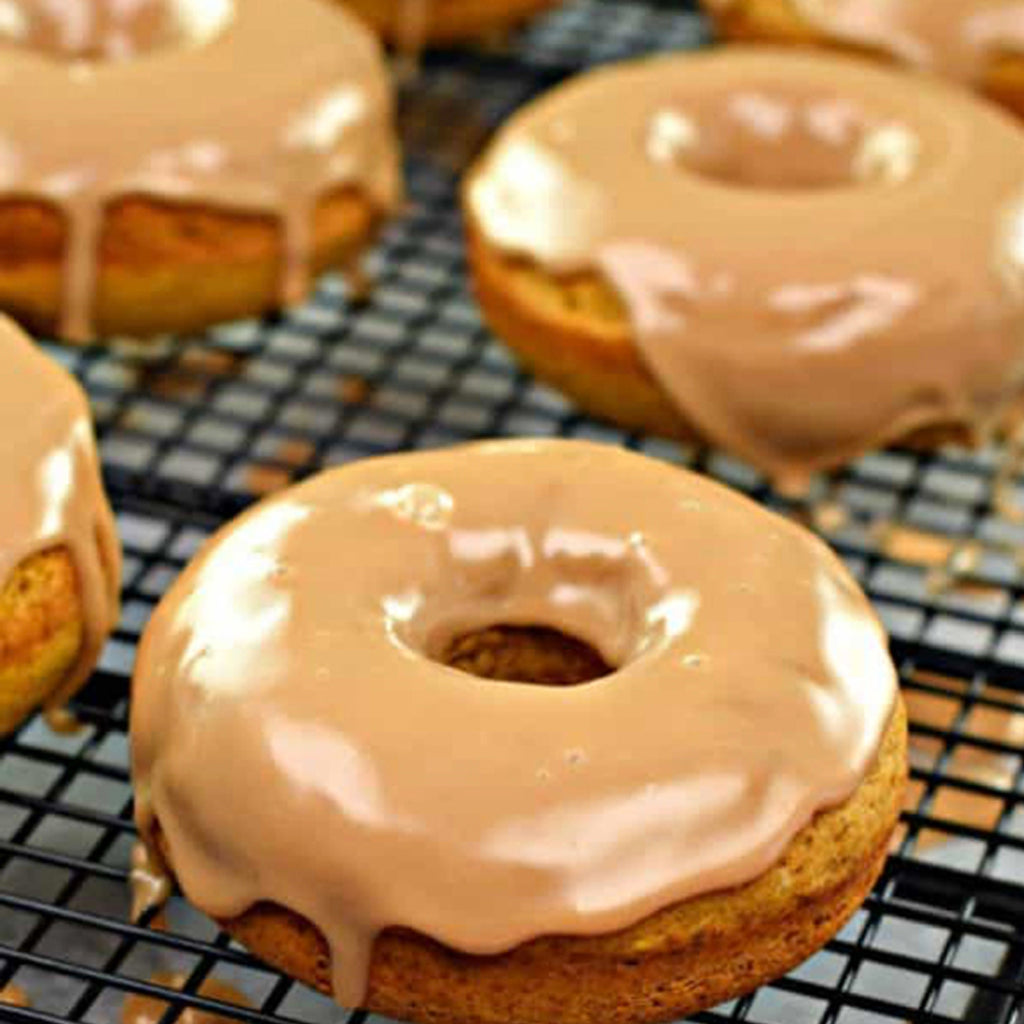 Pumpkin spice donuts bring the best flavors of fall to the table! These donuts are baked, not fried, and come together super quickly for a comforting seasonal treat. Subtly spiced with cinnamon, ginger, allspice, and nutmeg then dunked in a maple glaze topping, believe me, you'll be making these donuts on repeat this fall.  
Prep: 15 min. Bake: 18 min. Makes: 1 dozen donuts 
Ingredients:
Donut Batter
4 Tbsp. butter, melted or dairy-free butter
⅔ c. sugar or sugar substitute
2 large egg (or "Just Egg", "Simply Eggless" or 4 tsp baking powder, 2 Tbsp. water and 2 Tbsp. of vinegar)

½

c. pumpkin puree (not pumpkin pie filling)
1 tsp. vanilla

1½

tsp. pumpkin spice 
1½ c. Donut Mix
Maple Glaze
1½

c. powdered sugar
5-7 tbsp. maple syrup
2 tsp. vanilla 
You will need a donut or muffin pan.
Directions:
Preheat oven to 350ºF. Lightly grease donut or muffin pan and set aside. 
In a medium bowl melt butter. Add sugar and stir together with a fork. (sugar will start to dissolve). Add the egg and pumpkin puree and whisk together. 
In a medium bowl, combine pumpkin pie spice, and 1½ c. donut mix. Mix until combined. Scoop the dry mixture into the milk & butter mixture and stir together with a fork, starting in the center until all dry ingredients are combined and batter is smooth (no lumps). The batter will be thick.
Spoon donut batter into a pastry bag fitted with a large round tip or into a ziplock baggie with the tip cut off. Pipe batter into the donut ring until full. If using the muffin pan, fill each well

½

full.
Bake at 350ºF for 18 minutes. Allow to cool slightly before dipping in topping.
Prepare glaze in a medium bowl by stirring together powdered sugar, syrup and vanilla until smooth. (no lumps).
Place a sheet of wax paper under a cooling rack to collect drippings. Dip donuts into the glaze to coat one side and place on cooling rack. 
Serve immediately.
Donuts the next day? Microwave 10-15 seconds and re-glaze if desired. Donuts will soften like they were fresh-baked.