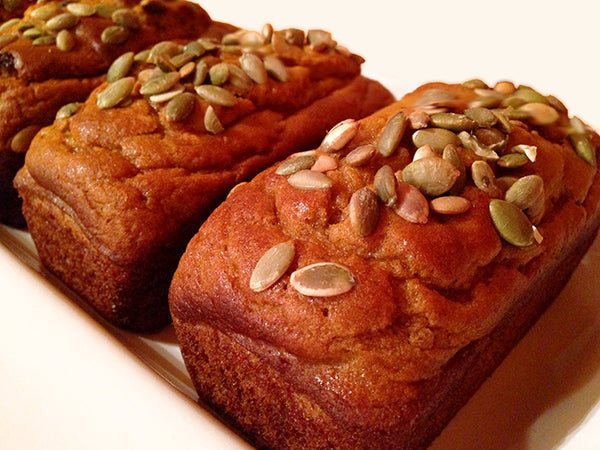 Let's chat about this pumpkin bread. It's easy to make — just a bit of mixing and stirring, pop it in the oven, and in about an hour you'll have a house smelling of sweet autumn spices and a scrumptious, pumpkiny loaf. I recently made my first pumpkin bread for the season, and it was heavenly, sweet, moist, fragrant with warn notes of spices, and topped with roasted and salted pepitas (pumpkin seeds). For me the roasted pepitas are a must because they add the perfect balance for the sweet and spicy flavors. Serve it up plain, toasted, with a spread of butter, or get a little adventurous, fry it up in a pan, and serve it up French toast style ~ Yum!
This bread also makes a great gift for neighbors, a hostess gift, or a gift for your boss if you're looking to butter them up a bit. Enjoy!
Pepitas Pumpkin Bread 
Yield: 1 9x3 Loaf, 3 mini loaves, or about 12 muffins.
*For fullest flavor use the individual spices as listed below. However 2 teaspoons of pumpkin spice can be used as a substitute. 

Ingredients
3/4 c. plus 1 Tbsp. sugar, or granular substitute 
1 tsp baking soda
Spices: 1 3/4 tsp pumpkin spice or for fuller flavor use the following spices.

1/2 tsp ground cinnamon
1/2 tsp nutmeg
1/4 tsp cardamom
1/4 tsp allspice
1/8 tsp ground ginger
1/8 tsp ground cloves 

2 large eggs / egg substitute
1 1/4 cup pumpkin puree
1/3 cup oil
1 tsp GF vanilla extract
1/4 cup pepitas seeds (topping-optional )
*Try adding the pepitas into the bread for another variation.
Directions
1. Preheat oven to 350°F. Grease 9x5-inch loaf. **Note**This recipe can make 3 mini loaves or about a dozen muffins instead. 
2. Combine the pancake mix, sugar, spices, and baking soda in large bowl. Set aside
3. Beat eggs in medium bowl. Stir in pumpkin, vanilla and oil. Add to flour mixture; stir just until mixed. Pour batter into prepared pans and sprinkle the top of the loaf with 1/4 cup of the pepitas
4. Bake 55 to 60 minutes or until toothpick inserted into center comes out clean. Cool in pan for 10 minutes. Remove from pan and cool completely on wire rack
Bakers Note
The spicy pumpkin flavors and texture improve when you let it sit until it's completely cool. Unfortunately, patience has never been one of my virtues. If you wrap it well, this pepita pumpkin bread will keep at room temperature for about 5 days.  It also freezes beautifully, so if you have leftovers, you can store them in the freezer for several months.