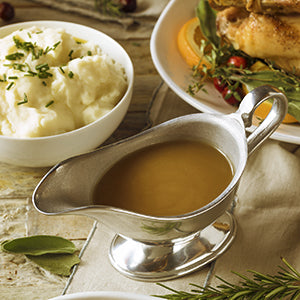 Perfect Gluten-Free Gravy Every Time
Thanksgiving dinner is really all about the gravy. In my family you'll find it all over our plates; ladled onto sliced turkey, adding flavor to mashed potatoes, stuffing, cornbread, and then mixed into favorite side dishes. It's a must on our Thanksgiving table. This is an easy recipe to follow and before you know it, you'll have mastered making perfect gluten-free gravy too. This recipe makes a medium bodied sauce.
Ingredients
3 c. broth or meat juices
4½  butter or dairy-free substitute 
4½ Tbsp potato starch or corn starch (Not flour)
salt & pepper to taste
Directions

Melt butter over low heat. When melted or heated through, remove from heat.
Add starch and whisk in to combine.
Add 

½ c. broth and whisk it until it's smooth and fully combined.

Add another 

½ c. broth and repeat step 3 until all of the broth is used.

Return the gravy to the heat and bring to a boil.

Reduce to simmer for 1-3 minutes, stirring 

occasionally. The gravy should thicken quickly.
Add salt and pepper to taste.
Using a fine wire sieve, strain gravy to remove any lumps.
Serve warm.