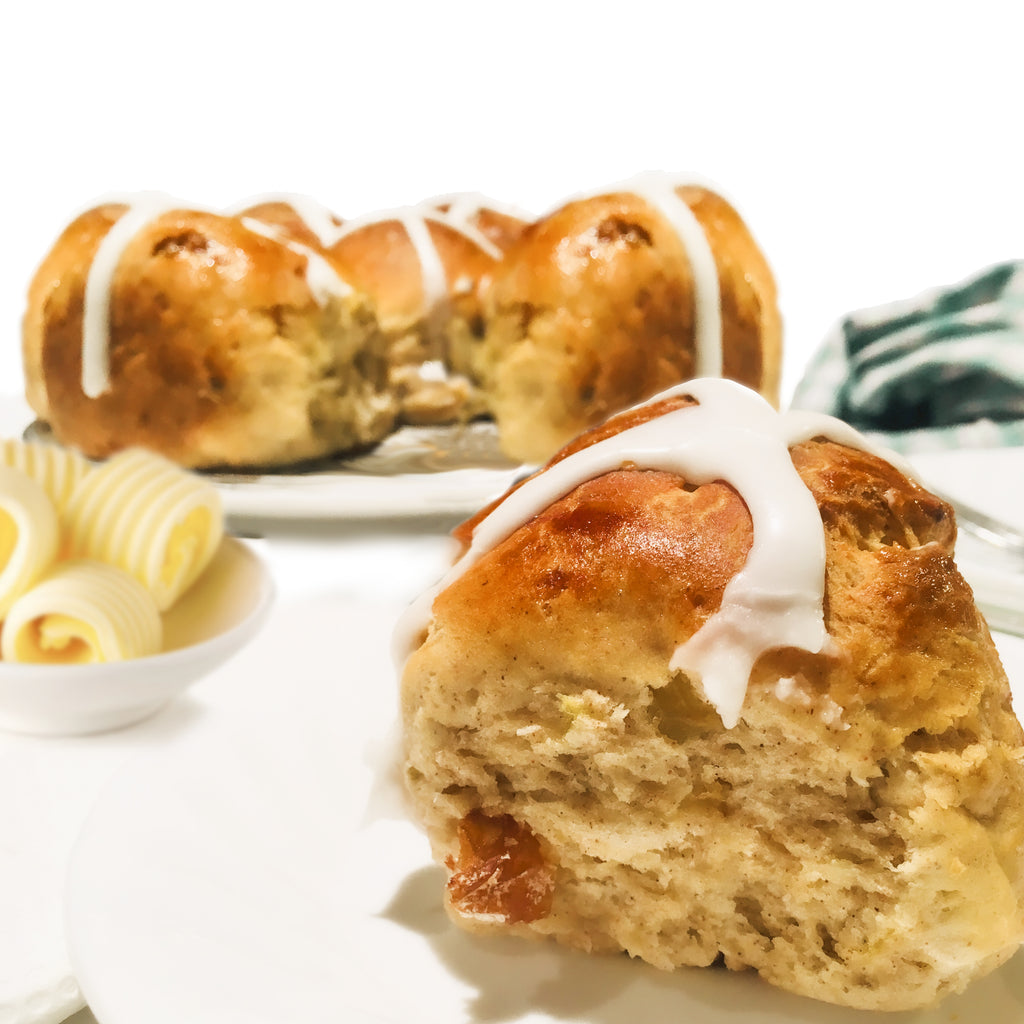 Wake up to the aroma of sweet hot cross buns. These gluten-free hot cross buns are as traditional as they come! Made with The Perfect Pie Crust Mix, they're soft, yummy, with juicy raisins and topped with a sweet glaze.  A perfect Easter recipe that has also been adapted for our vegan family. Happy baking! 

Hot Cross Buns Recipe
Serves 8 

Bun Ingredients: 

3/4 cup milk of choice, warmed to 110 degrees (about 40 seconds in the microwave.)
1 Tbsp yeast
6 Tbsp sugar
1 cup raisins (plus boiling water for soaking)
1 egg + egg-yolk

or (1

1/2 tbsp neat egg plus 3 tbsp water + 2 tsp baking powder) 

3 tbsp oil
1

1/2 

tsp vanilla
2 3/4 cup MinusG Perfect Pie Crust Mix
1 tsp salt
1 1/2 tsp cinnamon

For a warmer spice use (3/4 tsp cinnamon, 1/2 tsp nutmeg 1/4 tsp ginger)
Glaze Ingredients:
2/3 cup confectioner sugar
3 tsp milk (coconut milk)
1/8 tsp lemon zest finely grated
1/4 tsp vanilla
For the buns:
In the bowl of a stand mixer, combine warm milk , yeast, and 1 tablespoon of sugar. Let sit for 5 to 7 minutes until yeast is fragrant and foamy.
Add raisins to a heatproof bowl. Add enough boiling water to cover raisins and soak for 5 minutes. Drain well and set aside plump raisins.
Add remaining 5 tablespoons sugar, egg, egg-yolk, vanilla and oil to mixing bowl. Using the beater, combine until well incorporated. 
In a large bowl, whisk together the Perfect Pie Crust Mix, salt, and spices.
With the mixer on low speed, add about 1/2 of the flour mixture. Once incorporated, add remaining flour and raisins and incorporate. Increase speed and mix together. Dough should start to pull away from the sides.
Set oven to warm.
Divide dough into 8 equal portions. Working with one piece of dough, roll into balls using tapioca flour to keep the dough from sticking to your fingers. 
Place into a greased 9" round baking pan. Brush tops with oil and set into warm oven for 40 minutes until the balls of dough are touching each other. 
Remove from oven and preheat oven to 375 degrees F. Bake for 25 min.
Let cool to warm.
For the Glaze:
While baking, in a small bowl, mix powdered sugar, milk lemon and vanilla. Transfer to a pastry bag or ziplock bag with the corner cut. Pipe a cross on top of warm buns.
Enjoy these fresh from the oven. Alternatively, reheat or toast room temperature buns. Bread will keep in a airtight container up to 3 days. 
Happy Easter!
Overnight Hot Cross Buns How-To:
These buns can be mixed and baked in the same day, but isn't it more fun to pull a pan from the fridge and pop it in the oven then relax while the smell of fresh baked sweet buns fills the air?
Follow the instructions 1- 7. Cover and refrigerate the buns. The next morning, remove buns from the refrigerator while the oven heats to 375 degrees F.  Bake for 25 min or until golden. Prepare glaze, and decorate warm buns with a cross.