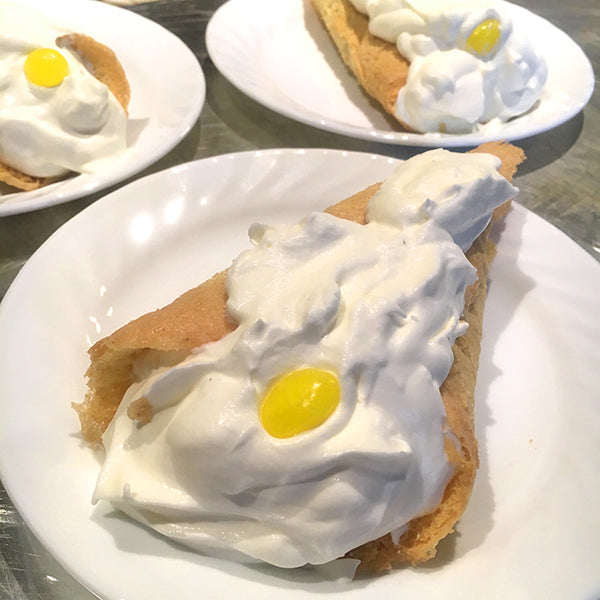 Easter lilies are a traditional Easter dessert for my family. Made with The Perfect Pie Crust Mix, the lightly sweetened cake, rolled and topped with a dollop of whipped cream and a yellow jelly bean, are the perfect sweet ending.

Easter Lilies
Makes 10-12 Lilies
Ingredients:

For the Lilies
3 eggs

¾

cups sugar
1

½

tsp vanilla
1

½

tsp baking powder
pinch cream of tartar
For the Whipped Cream
2 c. heavy whipping cream
3 tbsp confectioner's sugar
1 tsp vanilla.
Directions:

Beat eggs in an electric mixer to a stif froth, about 2-5min. 
Combine Pie Crust Mix, baking powder and cream of tartar.
Add sugar, vanilla, then the pie mix and mix until combined.Increase speed until the batter is smooth.
Grease a cookie sheet and line with parchment paper. Grease again. Drop by large scoop fulls (about 2-3 tbsp) of batter. *Note: you can usually bake about 4 lilies at at time
Spread into approx. 5

½

" circle.
Bake at 400 for 8-10 minutes. Lilies should be just starting to brown.
Let cool for about 30 - 40 seconds. Scrape against the parchment paper to loosen the cake from the pan. (It will leave a little cake on the paper).
Turn cake over and fold into a "V" shape with the bottom-side on the inside. Place folded side down on a parchment paper and cool completely. Place a new parchement sheet out, grease and pour batter and bake again until all batter is used. (not enough batter to make a full cake, make one large one - may need to bake longer).
Flip over and fill with whipped cream.
Serve with a yellow jelly bean or chocolate egg and dusted with powdered sugar.
Happy Easter!