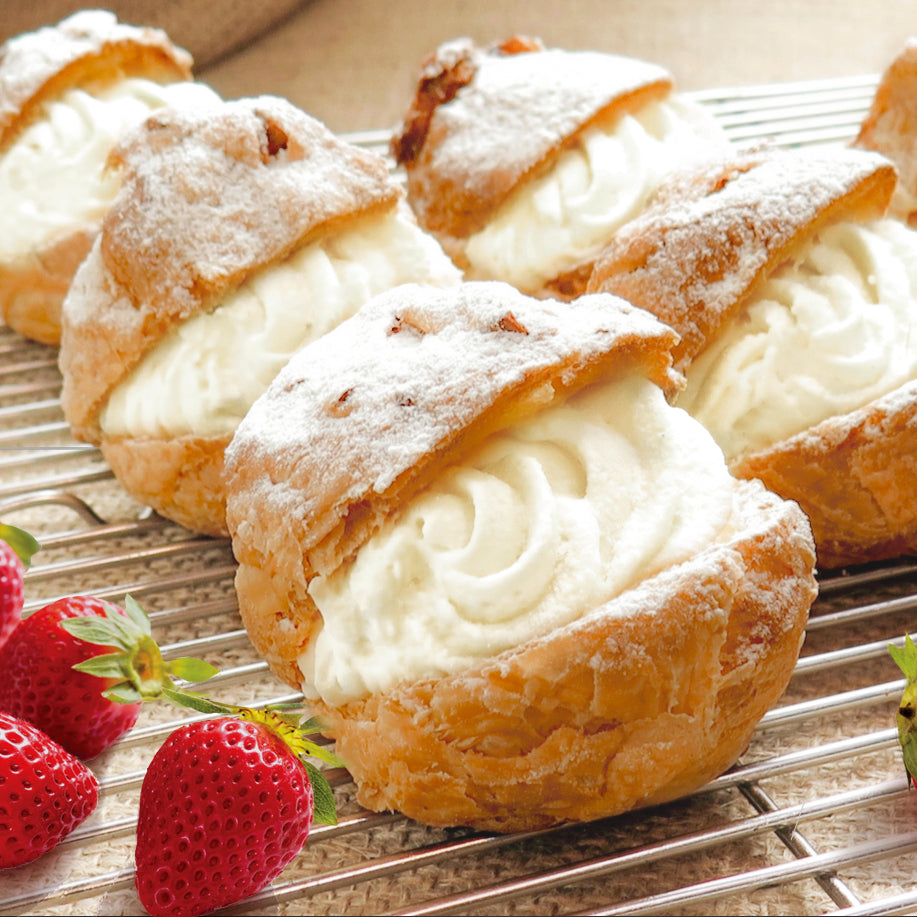 An elegant, bite-sized dessert, you won't believe how easy it is to make these classic pastries that taste just as delicious as the ones from the bakery. You'll feel like a fancy French pastry chef once you master this sweet dessert.

Made with simple ingredients, you can make this iconic French dessert in less than an hour. This recipe has been adapted from a family recipe. Serve your cream puffs as bite-sized desserts, or pair them with  chicken salad or savory ingredients for party appetizers.
PREP 15 min. | BAKE 35-40 min.| MAKES 15 3-inch puffs
Ingredients:
1 c. water
½ c butter
½ tsp. salt
1 c. pie crust mix
4 eggs at room temperature
2 c. heavy cream
2 tbsp. confectioner sugar (or sugar to taste)
splash of gf vanilla extract
HEAT: Preheat oven to 425° and line cookie sheet with parchment paper.

MIX: In a medium sauce pan, bring water and butter to a boil. Add pie crust mix, and salt. Stir until the mixture leaves the sides of pan. Remove from heat and cool. Place mixture into a mixing bowl or food processor. Add eggs one at a time, beating after each addition. Scrape down sides and mix another minute until the mixture looks smooth and glossy. Drop by spoonfuls on parchment paper, or fill a pastry bag and pipe into a 2-inch rounds.

BAKE: Place into hot oven and increase temperature to 450°. Bake 10 minutes. Reduce temperature to 350° and bake another 20-25 minutes or until golden brown Remove puffs from oven and cut very small slit into sides of each puff. Return puffs to oven to finish baking and allow steam to escape for about 5 minutes. Turn oven off, open oven door, and let puffs sit in oven for up to one hour to dry out. Remove puffs and cool completely.
FILLING: In a large mixing bowl or in the bowl of a stand mixer fitted with the whisk attachment, combine 2 cups heavy cream, sugar to taste, and a splash of vanilla extract. Whisk by hand or mix at medium speed until thick peaks form (peaks should not be loose or stiff in structure).
ASSEMBLE: Cut puffs in half. Spoon or pipe in whipped cream filling. Dust with powdered sugar and serve.
These puffs are also a great option for chicken or other savoy salad fillings.