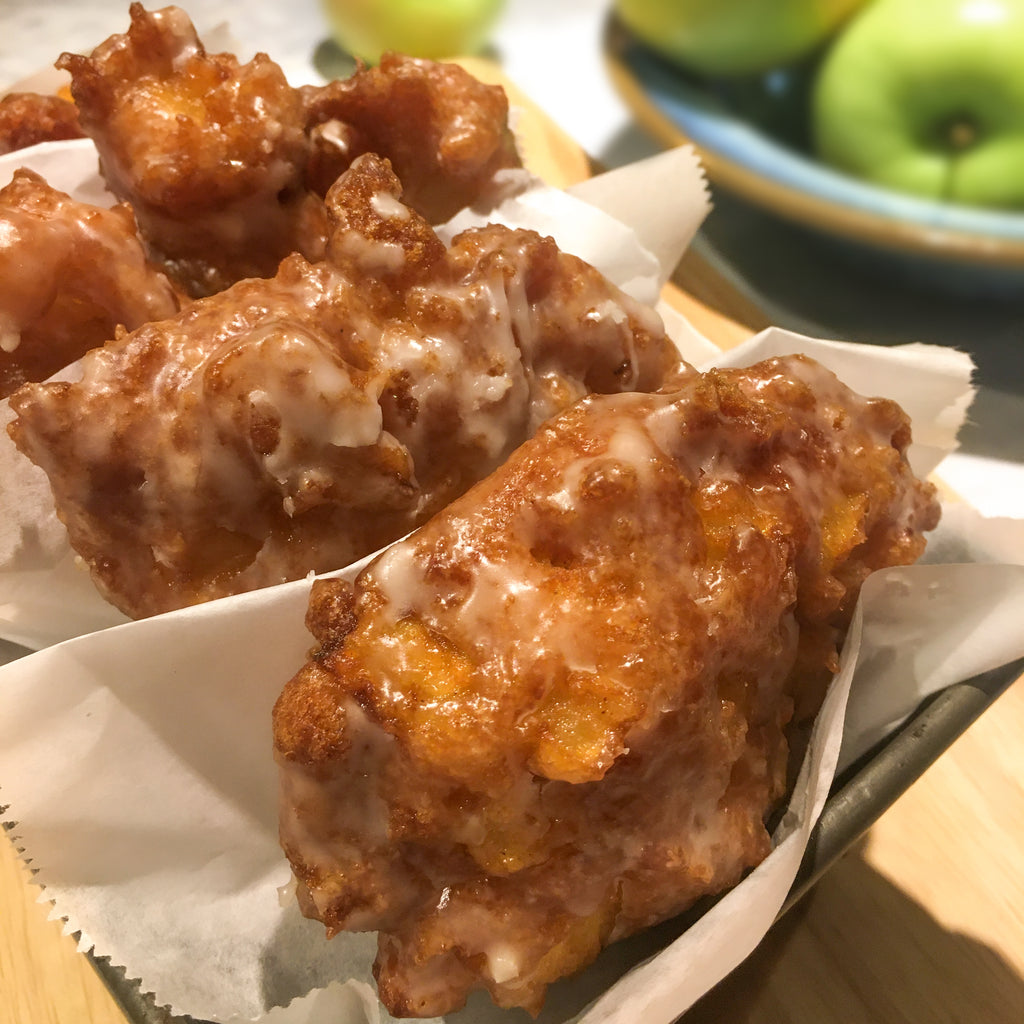 Light and fluffy dough, loaded with chunks of cinnamon-swirled apples, covered in a sweet cider glaze, oh my! It's like taking the best part of apple pie and donuts and combining them in one. Made with our Pie Crust Mix, you can have these scrumptious treats in your hot hands in less than 30 minutes. Make sure you stash a couple for yourself or you might blink your eyes and they will be gone.
Gluten-Free Apple Fritter Recipe
Makes 8 Fritters
Ingredients
½ 

Tbsp. sugar
¼ tsp. salt

1

 tsp. baking powder

½

Tbsp. oil
1 egg

⅓

c. milk of choice room temp or apple cider

1 ½ c. apples peeled and 

chopped (aprox 1 apple)
1 Tbsp. lemon juice
½ tsp. cinnamon
Apple Cider Glaze
2

½

cups powdered sugar

⅓

cup heavy cream

⅓

cup apple cider
1 tablespoon lemon juice
⅛ teaspoon sea salt
Flakey sea salt or vanilla salt, to finish
Directions
In a skillet, using a candy thermometer as a guide, heat a couple of inches of vegetable oil to 350 degrees or use a deep fryer set to 350 degrees.
In a large bowl mix together the pie crust mix, sugar, baking powder and salt. Whisk in the milk, eggs, oil, apple chunks and lemon juice, then dust on the cinnamon and swirl it into the batter.
Using a 1/4 cup scoop, or a large spoon, spoon four apple fritters into the oil per batch and let them cook for 3-4 minutes per side, then remove with a slotted spatula and set on paper towel to absorb extra oil. 
Let cool before glazing.*
Combine the glaze ingredients together while fritters cool.
Set a cooling rack on top of a cookie sheet. Dip fritters into the glaze then on to set the cooling rack and let glaze firm. Enjoy! 
*If you prefer not to glaze your apple fritters you can toss them in cinnamon sugar instead. An easy cinnamon sugar mixture takes just seconds to make:
1 c. sugar
1 Tbsp. cinnamon