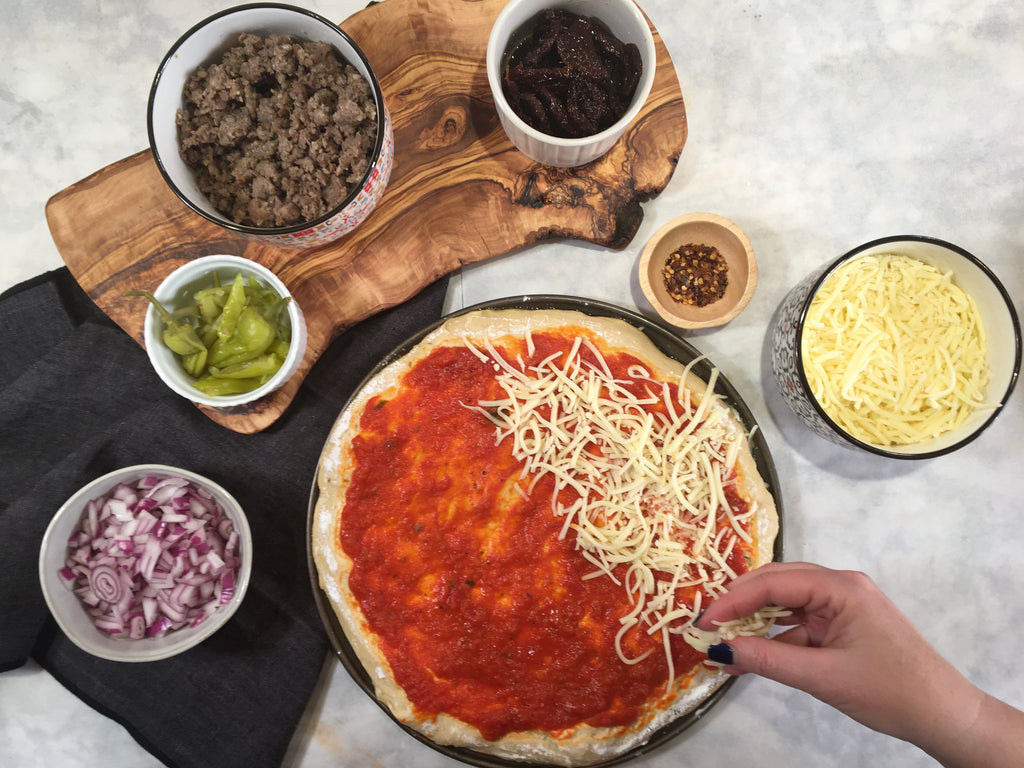 MinusG's Artisan Pizza Crust Mix makes the perfect crust. It's chewy and crispy, and with a slightly yeasty flavor—the way traditional pizza should be—and it is easy enough to throw together in an afternoon before guests arrive. 
MinusG's Artisan Pizza Crust Mix makes an easy gluten-free pizza crust. There's no hard-to-find ingredients or overnight rises required—just a crust that delivers that satisfying combination of chewy, crispy, and savory that we all know, love, and long for. Let's face it, if you've been eating gluten-free for a while, you know it's rare to find a crust this good in the gluten-free world.
If you're new to gluten-free baking or just doing it occasionally for friends and family, consider this mix a good place to start.
Step 1: Read the entire recipe before starting
I know this sounds so simple, but I cannot state how important it is to read the entire recipe before you start baking and to follow it exactly. I have caught myself being lax with my techniques and measuring. The results remind me of the importance of following the recipe.
Step 2: Let the dough hydrate
One of the small but easy ways to make your MinusG gluten-free pizza more successful is to make sure to let the finished dough rise the full 30-40 minutes. This ensures the starches are fully hydrated and you'll get a nice rise. You want that crispy crust with a soft center bite and chew? This is what creates that, for both thick and thin crusts!
Step 3: Pressed, not rolled
Since there is no gluten in the dough, it won't stretch and shrink like regular pizza dough. You'll need to use your hands with a little starch (cornstarch, tapioca starch, or potato starch) sprinkled on the dough to press it out. Press the dough into an even layer, thick or thin, on a greased pizza pan or sheet of parchment if baking on a hot stone. Want to see this technique in action? Watch our video: How to Make our Pizza Crust Mix.
Step 4: Top the crust while it's rising
After mastering your pizza crust, let's top it! Topping the dough during the rise time makes the 30-40 minutes go by quickly. By the time you're finished, the rise time is nearly up and its ready to pop it into the oven to bake. Since this pizza dough is so easy to mix up and bake, I'm sure you'll want to try more of your favorite classic pizzas.
Step 5: Heat your pizza stone ahead of time
If you use a pizza stone, make sure it is very hot. An oven takes only 10 minutes to heat, but the racks and oven walls aren't at the correct temperature until at least 20 minutes have passed. Pizza stones take at least 20 minutes to heat up to the correct temperature.
Enjoy!