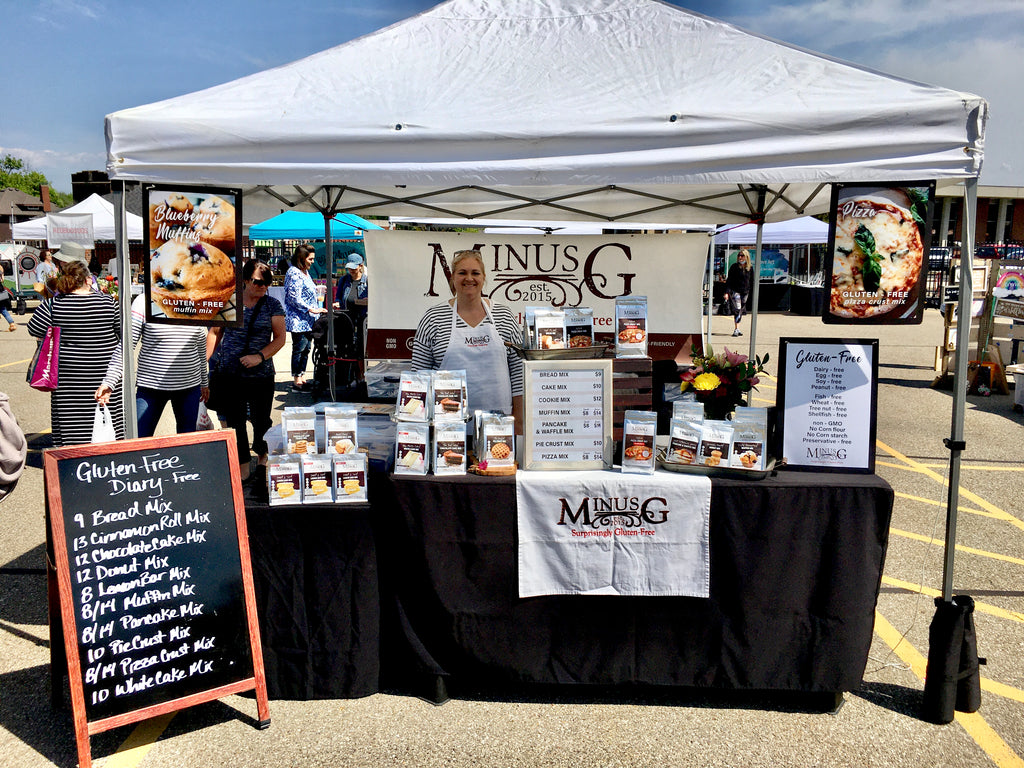 Hi friends, if you or a loved one has just received the news of celiac disease, know that you are not alone. YES, there is life beyond this point! I want to reassure you that you will discover there are delicious gluten-free foods and you'll enjoy living life again.
Living gluten-free is a absolute must for the one diagnosed with celiac disease. Simply put, you must avoid all grains containing gluten (wheat, barley, rye, and oats). Oats are only safe when specified gluten-free. It's essential for you to safe-guard your health but it's also the best way to improve your life.
My World, Changed

When I was diagnosed, I was overwhelmed with the news and uncertain where to begin. I thought, "How do I eat, let alone shop gluten-free?" It was mid November when I got my diagnosis and thanksgiving was just around the corner. I decided to buy a loaf of gluten-free bread to see if I could make our family thanksgiving stuffing recipe. You see, in our family, the sausage stuffing is the life of our thanksgiving dinner. Oh we like the turkey, potatoes and gravy, but the stuffing is always the favorite. It's my German heritage, we LOVE bread!
The loaf I found was dense and seemed like it was supposed to be an artisan bread. Was I ever disappointed! It was as stiff as a board and when I broke it apart, it looked like styrofoam. I thought, "I'll never eat bread again!"
Finding My Way
At that point, I decided against making stuffing until I found something worth eating. I chose to eliminate all bread-like products because it was the easiest. However, I began to crave foods like pizza, breads, and sweet treats. I knew it was important for me to eat a balanced diet filled with veggies, meats, and fruits, along with some grains and sweet treats, but how?
That's when it started my quest to make my own gluten-free flour blends that were healthy, tasted delicious, and were also nutritious. I don't recommend this road because it's an expensive one, but I'd like to share what I've found along the way and how these tips can make your life easier.
Tips To Enjoy Eating Gluten-Free
First and foremost, focus on all the natural foods: meat, veggies, and fruits. Most natural foods are inherently gluten-free and are always the better choice. These are the foods that are on the outer isles of the grocery store. 
Make your own meals and sauces. I know there are many who do not enjoy being in the kitchen, but if you can master a few easy rice and bean or quinoa dishes with a side of chicken and steamed veggies, this will make your busy life much simpler. Making your own meals is a great option because you'll know that it is safe to eat, it's free of contamination, and less costly in the long run.
Do online research. For all pre-packaged foods, begin by looking up the brands you love and find out if they are gluten-free and produced in a gluten-free facility. Many food are naturally gluten-free, but some are made on the same equipment as wheat products. I say this because even a tiny amount of gluten can cause those who are very sensitive to become sick. If you're uncertain, call the manufacturer. I have done this many times to be sure it's gluten-free.
Read Labels: Study the labels carefully by going through each ingredient. Remember, "wheat-free" and "gluten-free" are not the same. Foods that say wheat-free may contain barley, rye, or oats. Again, oats are only safe when the it's stated gluten-free. Stay away from words like "modified", "natural flavors", "flavors", and "hydrogenated" unless it's specified gluten-free. For instance, if it says "modified food starch (corn or potato)" then it's gluten-free safe. Again, the more you find out before going to the store will make your shopping easier and much more enjoyable.
Be consistent with eating gluten-free. Do your best not to cheat. It will be challenging, but it's best to remove everything that has gluten in your home if possible so it's not a temptation. By doing this you will safe-guard your health.



After all the checking and double checking is done, you can simply enjoy eating!
Enjoy Living Again
It's a joy to share what I've learned with you. Living gluten-free becomes easier as you find gluten-free (GF) foods you like and meals you can make. 
It's because of my own diagnosis that I started MinusG, producing surprisingly gluten-free, sweet, savory, and sugar-free baking mixes. If you are looking for scrumptious gluten-free options, MinusG has exceptional mixes that have great flavor and texture.
Making the Impossible, Possible
From tasty sandwiches, pizza, and pancakes, to a piece of cake, pie, or cookie, you can find our mixes at our online store  and in these retail locations. You will find that MinusG baking mixes makes what seems impossible with gluten-free, possible.
I welcome you to browse our store and be sure to check out the "what's cooking" tab for great recipes to help you on your journey.
~ Katherine, the MinusG Baker