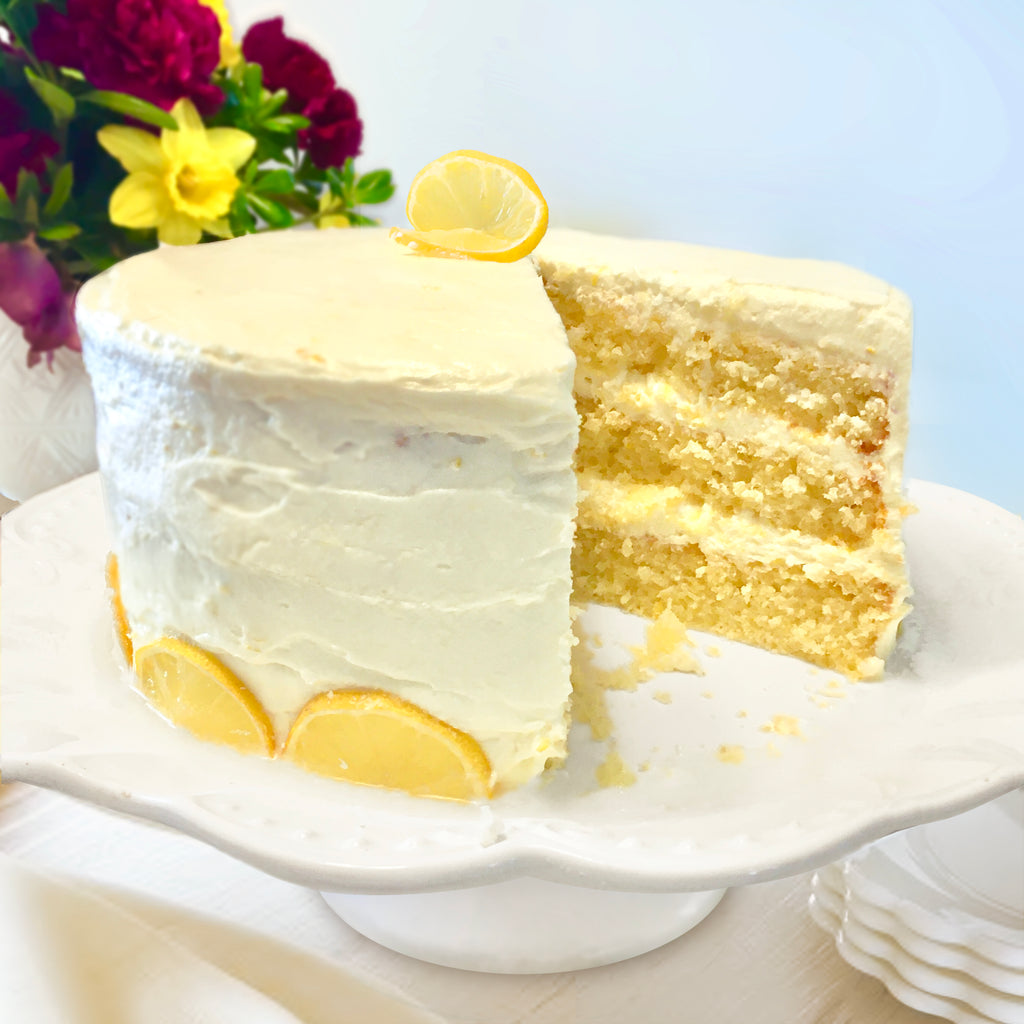 This is the best gluten-free lemon cake recipe ever! Every bite bursts with a citrus and melt-in-your-mouth tenderness that is perfectly fluffy. The creamy frosting is not overly sweet, has the perfect amount of lemon; clearly present, but it won't make you pucker. It's elegant, easy to make with the MinusG White Cake Mix, and can turn any day into a sunny celebration. Let the celebrations begin!
PREP: 25 min | BAKE: 28-32 min | MAKES: 3 8-inch layered cakes 
For the Cakes

½ c. lemon juice

½ c.

milk / non dairy milk
1 bag MinusG White Cake Mix
1½ c. sugar or granular substitute
1 heaping Tbsp lemon zest (about 2-3 lemons)
⅔ c. light oil 
4 eggs 

For egg-free use 2 tsp baking powder + 1 Tbsp vinegar + 1 Tbsp water per egg.
Lemon Cream Cheese Frosting 
1 8oz. cream cheese 

or dairy-free - cream cheese - Kite Hill

1 c. softened butter (2 stick) or butter substitute
5 c. powdered sugar
2 Tbsp lemon juice
zest of 1 lemons
1 tsp GF vanilla extract
pinch of salt
Directions
Make the Cake 
PREP: Grease 3 8-inch round cake pans and line with parchment paper. Heat oven to 350°F.
MIX: Combine lemon juice and milk and let sit 5 minutes. In a stand mixer, add cake mix, sugar, lemon zest, oil, eggs, lemon-milk mixture and blend together. Scrape down sides of the bowl and beat just until the ingredients are fully blended. (The batter will be light and airy which lend to the delicate crumb). Divide batter evenly between cake pans.
BAKE: Bake for 28-32 minutes or until a toothpick inserted comes out clean. Cool cakes completely on a wire rack. 
Lemon Cream Cheese Frosting 
MIX: In a large stand mixing bowl, beat the butter on medium speed until creamy, about 2 minutes. Add the cream cheese and beat until completely smooth and combined. Add powdered sugar, lemon juice, lemon zest, lemon extract, and a pinch of salt. Mix on low to incorporate. Beat on high speed for 3 minutes.
ASSEMBLE: Center first cake layer on a cake plate. Evenly cover the top with about 1 cup of frosting. Top with 2nd cake layer and evenly cover the top with about 1 cup of frosting. Top with the third cake layer. Spread the remaining frosting all over the top and sides. Garnish with lemon slices and serve.