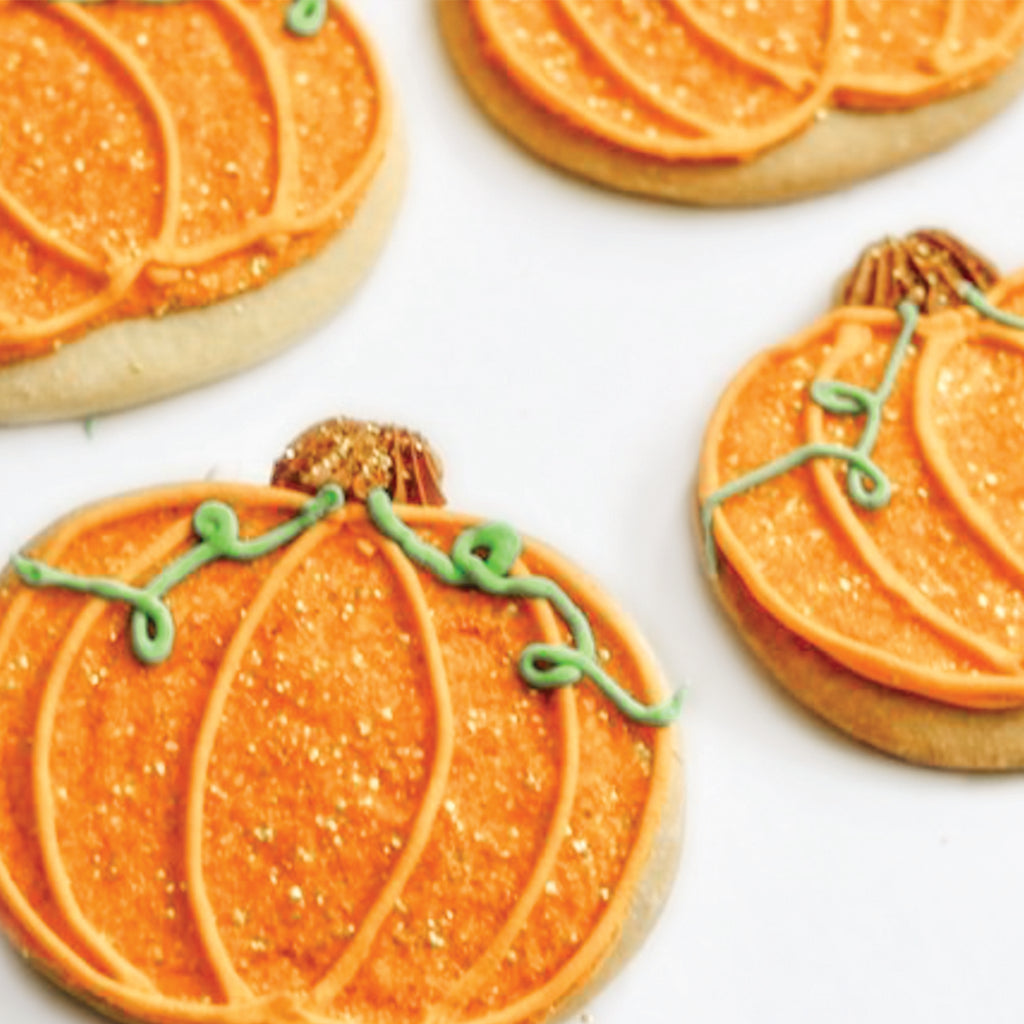 Sugar cookies are a buttery classic that make a delicious "anytime" treat. These pumpkin sugar cookies are a fun fall delight; easy to make, buttery delicious, colorful and cute! They are the perfect party cookie. Did someone say pumpkin cookies? 
Ingredients:
The Cookie Dough
½ c butter of choice, softened
1 c sugar or ganular substitute
1 egg or ¼ c Just Egg or Simply Eggless
¼ c sour cream or Kite Hill DF cream cheese
1 tsp GF vanilla extract
½ tsp GF almond extract (opt.)
1 bag MinusG Sugar Cookie Mix
Piping Frosting 
10 Tbsp butter of choice, soft
2 tsp GF meringue powder (opt)
4 c powdered sugar
4 Tbsp milk of choice, warm
1 tsp GF vanilla extract
⅛ tsp salt
Icing Recipe:
1½ c powdered sugar
¼ tsp GF vanilla extract
2-3 Tbsp cream (for desired thickness).
MIX: Cream butter and sugar Add egg, sour cream, vanilla, almond extract and mix together. Add cookie mix and beat until the dough pulls away from the bowl.
*Dairy-free? Refrigerate cookies 30 minutes before baking.
CUT OUT: Roll dough 1/8" thick on a lightly starched surface lined with saran. Cut out 3" to 4" fall shaped cookies. I used a pumpkin shaped cookie cutter.  Place cookies on parchment lined baking sheet. 
BAKE: Cut-outs: 400° 6-8 minutes Edges should be a light golden color. Cool completely before frosting.
MAKE TOPPINGS: 
To make frosting: Cream butter. Add remaining ingredients and mix together. Beat until fluffy. Divide into 3 bowls. Tint frosting with food coloring - orange, brown and green. 
To make icing: Blend powdered sugar, vanilla and cream. Tint with orange food coloring.
DECORATE: Using a pastry bag fitted with a number 2 or 3 tip, outline the cookie with the orange frosting. Flood the inside of the frosting outline with the orange icing. Sprinkle with orange sugar crystals. Let set to dry completely. Shake off excess sugar crystals. Using a number 2 tip, pipe the orange frosting to form the pumpkin lines. With a star tip, pipe brown frosting to create the stem. Pipe on the green vines. Set to dry. Enjoy!!!